Search for car hire in Nice
Fill in the search form below to find cheap car hire in Nice
Our great prices include
Lowest price guaranteed

Third party liability insurance

Collision damage waiver

Vehicle licensing fee
Our team is here to help 24 hours a day,
7 days a week.
Best value car hire from top brands








Key facts for hiring a car in Nice
Best time to visit

Year round

Useful lingo

You do not have priority - Vous n'avez pas la priorité

Not to be missed

The view from Castle Hill

Time difference

GMT + 1

Currency

Euro (EUR, €)

Hire a car in Nice
Nice is one of the best known towns along the French Riviera.
Its Bay of Angels twists around the coast and is an elegant perimeter for the city's main body. The urban seafront, with its terracotta buildings and succession of palm trees is a good place to feel southern French vibes.
The Old Town, Vieux Nice, is truly atmospheric with narrow streets lined with shops selling local provincial goods. Car hire in this part of the world is a really valuable asset, as there are so many places in the vicinity just waiting to be discovered.
Local knowledge



The best beaches on the Cote d'Azur
It's no secret that Nice, although famed for its elegant waterfront promenade, actually has a pebble beach. Luckily, there is a choice of sandy shores nearby, and our top three picks have parking!
Plage de l'Estagnol
Near Toulon, this cove is protected by pine trees, so there's always somewhere to find a shady spot. The water is crystal clear and not too deep, so it's great for families.
Pampelonne beach
A famed expanse of sand located in St Tropez, this is the beach that many dream of when they visit the South of France. A green natural backdrop ensures that the sand and sea is not spoiled by high-rises, as with many popular resorts.
Larvotto Beach
If you want to experience the lifestyle of the rich and famous, head to Larvotto Beach for the day. Surround yourself with yachts and casinos, sports cars and beautiful people. Remember to bring your own snacks and water though, as the local prices are extortionate!
Paloma beach
A small beach just outside of Nice, on the Saint-Jean-Cap-Ferrat peninsula. Open April - September, you can spend the day admiring the boats in the bay and the stunning villas surrounding you. There is a restaurant on the beach, and although it's not cheap, you really won't be able to beat that view.



Tips for driving in France
Intersections
At uncontrolled intersections (T junctions), you must give way to vehicles to your right, unless otherwise indicated. You may see diamond-shaped yellow signs with a white border – these override this rule and mean that you do have priority.
Use of the horn
In urban areas you should not use your horn unless you are alerting people of immediate danger.
Headphones
Recently, a new rule was implemented which means it's illegal to drive whilst using headphones or earphones.
Yellow lines
If there is a continuous yellow line on the side of the road, this indicates that you cannot stop or park there. IF the line is broken, this indicates that parking is prohibited.
Speed bumps
These can be common, so watch out. You do need to decrease your speed on approach or you could damage the car!
Speed limits
These differ in the rain, so where a motorway speed limit is usually 130 km/h, in the rain it changs to 110 km/h.


Not to be missed
Clue d'Aiglun
Just beyond the city of Nice are acres of national park: home to Clue d'Aiglun. This aquatic garden is filled with some of nature's most impressive bodies of water.
At Clue d'Aiglun you'll find secluded, bubbling natural jacuzzis, waterfalls surrounded by vegetation, mountain water overflowing from tranquil hollows and deep river pools.
So undiscovered is this area that you are likely to be undisturbed by other tourists. So, picnicking on the twinkling rocks, and a night camping in the wilderness after an invigorating dip, are both possible in this oasis.


Beyond Nice
Easygoing Eze
There is a whole host of stop off points lining the Cotes d'Azur. Extravagant towns such as Monaco and St Tropez have helped to crown the Riviera with the not-so-subtle nickname, Millionaire's Coast. However, look beyond the wealth and there are so many small villages and lesser known places to uncover.
Next door to the glamorous principality of Monaco, with its tax-haven status and shiny yachts, the town of Eze could not be more different if it tried.
High on a cliff top, this quaint medieval village has not succumbed to the money-making ploys of its ostentatious neighbour. Eze is more homemade lemonade than store-bought pop; it's impossible to replicate places like this.
Stone homes are almost camouflaged by the mountain they reside on. Their front doors open out onto steep, cobbled streets, and tiny archways act as entrances to sidewalk cafes and secret courtyards. On the hillside, cacti entangled with flowers and grasses take centre stage, and the denim blue sea hundreds of metres below provides a dramatic backdrop.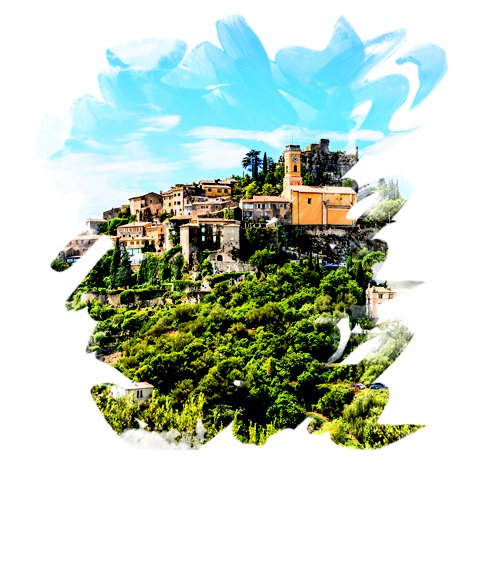 The ultimate Nice road trip
Nice Côte d'Azur Airport

NCE

The third busiest airport in France.

Car hire pick up point

The rental centre is located just outside of Terminal 2.

Cannes

– 27km

A holiday spot popular with the wealthy, known for its annual Film Festival.

Verdon Gorge

 – 130km

Breathtaking river canyon named after its bright green colour, popular for river rafting.

Moustiers-Sainte-Marie

 – 29km

Thought to be one of the most beautiful towns in France, with a star hanging high above it.

Aix-en-Provences

 – 102km

Gorgeous town with tree-lined boulevards and narrow streets, overlooked by the lovely mountain, Sainte-Victoire.