Search for car hire in Alicante
Fill in the search form below to find cheap car hire in Alicante
Our great prices include
Lowest price guaranteed

Third party liability insurance

Collision damage waiver

Vehicle licensing fee
Our team is here to help 24 hours a day,
7 days a week.
Best value car hire from top brands








Key facts for hiring a car in Alicante
Car hire locations

There two pickup locations in Alicante, the airport and at the railway station.

Popular times to visit

July and August

Useful lingo

Exit – Salida


Car park – Aparcamiento

Time difference

GMT (the same as London, UK)

Currency

Euro (EUR, €)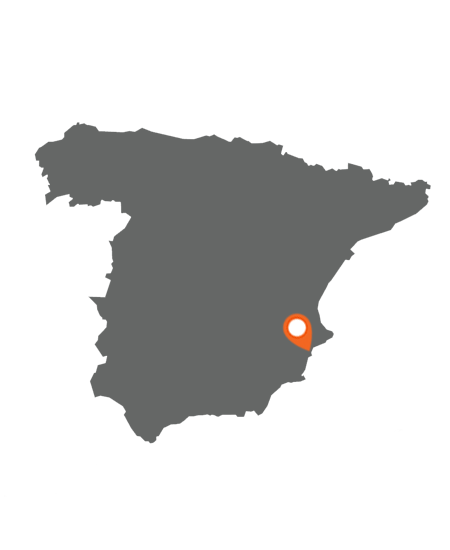 Hire a car in Alicante
A Medieval castle on a barren mountain overlooks Alicante's harbour.
With its miles of Mediterranean beaches and warm blue waters, Alicante's landscape is sculpted to cater for the holidaymaker. This part of the Iberian Peninsula is greeted by millions of visitors each year, and with so much to offer within driving distance, it's not hard to see why.
Whilst in town, wander by the water to see the cruise ships passing through and sip cocktails in the bars along the waterfront. Down on the marina, the neatly-parked boats docked in the harbour sit in contrast with the towering cranes on the commercial side of the port. Head out of the city to find authentic Spain. You'll find lemon groves, delightful stuffed tomatoes, Moscatel wine, sweet pastries, golden medieval churches, blossom trees, roman bridges... the list is endless.  
Away from the city
Drive into the hills
Small, untouched Spanish towns are sprinkled throughout the local area. The Andalusian provinces are full of secrets, you just have to know where to look.
The roads en route to El Castell de Guadalest (although this particular destination is not undiscovered) are ideal road trip territory. Beautiful scenery, winding ascents and blissful sun will join you on your trip.
On approach, you'll meet tiny villages such as Polop surrounded by olive, almond and orange groves. El Castell de Guadalest itself is carved precariously into a mountain top, hundreds of metres above a bright blue reservoir.
There's a large parking facility, so it's the perfect place to take the car. And if that wasn't enough to tempt you, six unusual museums add another layer of intrigue to your visit: dollhouses, torture instruments and miniatures are just some of the themes.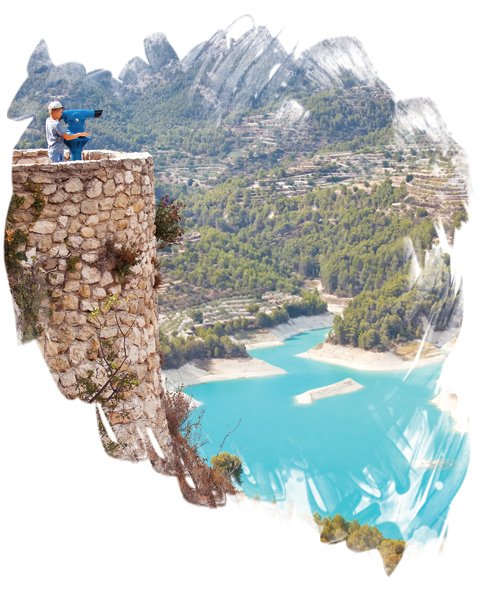 Driving tips
Make sure you get a car with air conditioning if you're travelling during peak season. You'll need it!
There are many toll roads in Spain, so account for these extra costs in your budget.
Hefty fines are given out for speeding, driving without your seatbelt and using a mobile phone. Be warned.
Wearing open back shoes and flip flops is not permitted if you are driving.
Yellow lines on the road mean no parking.


Where to road trip


Cuenca
3hrs 15mins northwest
Famous for its hanging houses, these ancient buildings line up against the edge of a dramatic cliff edge. ere.


Tarragona
4 hours north
Capital of the Gold Coast, Tarragona is a town of Roman ruins, including an amphitheatre by the sea.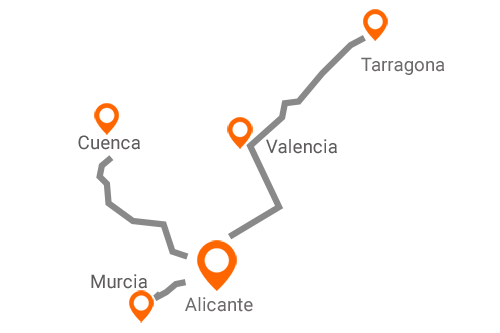 Murcia
1 hour southwest
Murcia has an art scene and a small-town vibe. It has been suggested that the best tapas in Spain is served here.


Valencia
2 hours north
One of the oldest cities in Spain, modernised with futuristic design and surrounded by agricultural tradition.


A date with the palms
Mysterious Elche
There are so many wonderful stop offs just a short way from Alicante. Elche is perhaps the most cultural place within driving distance of Alicante.
At the end of the 10th century an elaborate irrigation system was formed by Arabs who came from North Africa. With them they also brought the palm tree. Nearly a quarter of a million date palm trees exist in this very spot today, meaning that there could well be more palms than people in this Valencian city.
Another reason to visit is Mystery play of Elche. This medieval performance is the only one like it in the world today. This two day spectacle is quite a commitment, but it's free and people come from all over to watch it.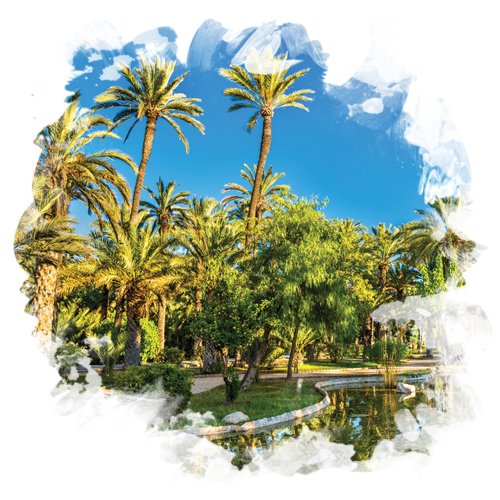 More Destinations in Spain


Nearby destination
50 miles away
57 mins' drive


Nearby destination
30 miles away
51 mins' drive


Nearby destination
30 miles away
36 mins' drive