Search for car hire in Nice
Fill in the search form below to find cheap car hire in Nice
Our great prices include
Free cancellation and amendments

Third party liability insurance

Collision damage waiver

Vehicle licensing fee
Our team is here to help 24 hours a day,
7 days a week.
Best value car hire from top brands












Key facts for hiring a car in Nice
Best time to visit

Year round

Useful lingo

You do not have priority - Vous n'avez pas la priorité

Not to be missed

The view from Castle Hill

Time difference

GMT + 1

Currency

Euro (EUR, €)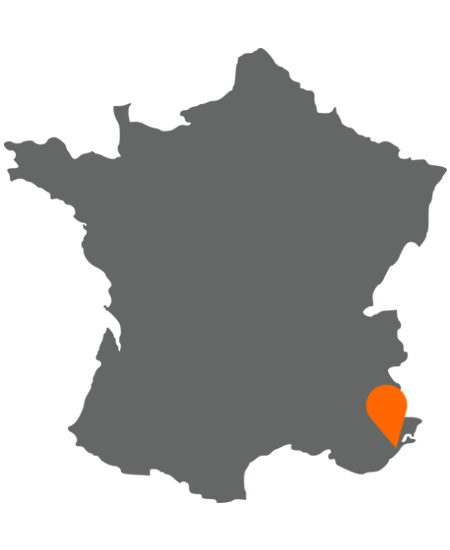 Hire a car in Nice
A cross between tropical beach resort and major metropolis, Nice is the iconic French Riviera retreat.
The Bay of Angels twists around the town's coastline, creating an elegant perimeter for the city's main body. For some of the finest southern French vibes, Nice's urban seafront, lined with terracotta buildings and billowing palm trees, is the place to be.
While Paris may be the tourist capital of the France, Nice is the country's top spot to hire a car. Don't miss out on discovering all that the Côte d'Azur has to offer. Let easyCar find you the best rental deal, so you can spend your time mapping out your getaway.


easyCar customer reviews for car hire in Nice


"The site was easy to use, and I was impressed with the saving."


"Simple, straightforward and competitive quotes."


"Everything went very smoothly with booking and picking up the car!"
Helpful advice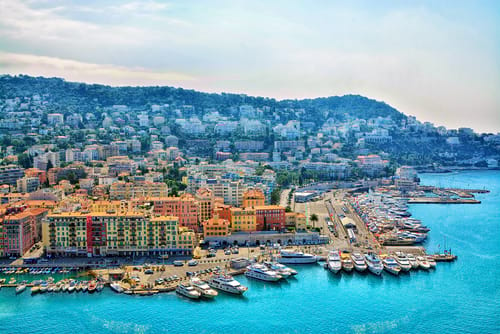 How many miles can I drive?
When deciding which car hire company to rent with, you'll want to watch out for whether they have restrictions on how many miles you can drive. This cap could be per day or, if you're renting for a longer duration, the total number of miles driven over a certain number of days. Other suppliers include unlimited miles – ideal if you're looking to make a long road trip through southern France.
The chart below shows our top car hire suppliers in Nice and their mileage limits.
Our most popular
suppliers
Mileage Limit
Europcar
Unlimited*
Thrifty
Unlimited
Firefly
300km per day
Budget
Unlimited
InterRent
250km per day
*In France, Europcar caps its mileage at 250km per day for rentals between 1-4 days. Always check the terms and conditions, as suppliers may can their policy based on the number of rental days.



Which is the best car hire supplier?
It's difficult to pick out one car hire supplier that's right for every renter, it strongly depends on what you're looking for.
Best value
suppliers
Highest rated
suppliers
Dollar
Avis
InterRent
Hertz
Goldcar
Goldcar
Firefly
Budget
Rhodium
Alamo
Many small country specific companies offer great deals. So If you're searching for the cheapest rental price, they're a great way to stay on budget. But if you're less concerned about scoring the lowest cost vehicle, you may be more interested in a bigger brand company that you're familiar with.
It is common for big name suppliers to charge higher prices. Dollar, our best value supplier in Nice, has an average cost per day of £18.30, while our highest rated supplier, Avis, has an average cost per day of £41.


Facts and stats about car hire in Nice


Monthly weather and average cost per day of car hire
| | | | |
| --- | --- | --- | --- |
| Jan | 13°C | 5°C | £21.10 |
| Feb | 13°C | 6°C | £23.80 |
| Mar | 15°C | 8°C | £25.70 |
| Apr | 17°C | 10°C | £28.50 |
| May | 21°C | 14°C | £25.30 |
| Jun | 24°C | 18°C | £26.70 |
| Jul | 27°C | 20°C | £35.70 |
| Aug | 28°C | 21°C | £31.80 |
| Sep | 25°C | 17°C | £23.20 |
| Oct | 21°C | 14°C | £23.20 |
| Nov | 17°C | 10°C | £18.10 |
| Dec | 14°C | 6°C | £29.60 |


Your questions answered
| | |
| --- | --- |
| What is the most popular rental length in Nice? | Six to seven days. |
| What is the most popular month to rent a car in Nice? | August, when a hire car costs on average £29.10 per day. |
Location prices
| | |
| --- | --- |
| Airport | £26.90 |
| Downtown | £30.10 |


Driving tips for car rental in Nice
Intersections
At uncontrolled intersections (T junctions), you must give way to vehicles to your right, unless otherwise indicated. You may see diamond-shaped yellow signs with a white border – these override this rule and mean that you do have priority.
Use of the horn
In urban areas you should not use your horn unless you are alerting people of immediate danger.
Headphones
Recently, a new rule was implemented which means it's illegal to drive while using headphones or earphones.
Yellow lines
If there is a continuous yellow line on the side of the road, this indicates that you cannot stop or park there. If the line is broken, this indicates that parking is prohibited.
Speed bumps
These can be common, so watch out. You do need to decrease your speed on approach or you could damage the car!
The ultimate Nice road trip
To provide you with a bit of inspiration, we've put together a short road trip across the south of France. These are far from the only sights in the region but they showcase the diverse range of places you can see while coasting along the scenic roads out of Nice.
Nice Côte d'Azur Airport

NCE

The third busiest airport in France.

Car hire pick up point

The rental centre is located just outside of Terminal 2.

Cannes

A holiday spot popular with the wealthy, known for its annual Film Festival.

Verdon Gorge

Breathtaking river canyon named after its bright green colour, popular for river rafting.

Moustiers-Sainte-Marie

Thought to be one of the most beautiful towns in France, with a star hanging high above it.

Aix-en-Provences

Gorgeous town with tree-lined boulevards and narrow streets, overlooked by the lovely mountain, Sainte-Victoire.
Types of rental car


Mini
Average cost per day: £17.90
Examples of mini cars include: Fiat 500, Hyundai i10, Toyota Aygo, Citroën C1


Economy
Average cost per day: £20.40
Examples of economy cars include: Ford Fiesta, Vauxhall Corsa, Renault Clio, Volkswagen Golf


Compact
Average cost per day: £25.90
Examples of compact cars include: Vauxhall Astra, Hyundai i30, Ford Focus, Peugeot 306


Local driving laws
What are the rules of the road in France?
| Legal drink driving limit | Minimum renter age |
| --- | --- |
| 50 micrograms of alcohol in 100 millilitres of blood | 18, though some suppliers require you to be 21-23 |
Type of
road
Speed limit
Built up areas
50km/h
Rural areas
80km/h*
Motorways
130km/h
Take note that speed limits in France change when it rains or the weather is particularly bad. So where a motorway speed limit is usually 130 km/h, in the rain it changes to 110 km/h.
*As of July 1, 2018 the speed limit on rural roads in France was reduced from 90km/h to 80km/h.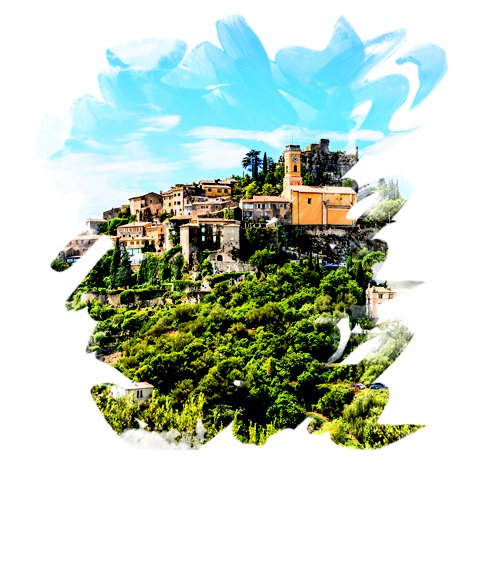 Other car hire locations in France