Search for car hire in Milan
Fill in the search form below to find cheap car hire in Milan
Our great prices include
Free cancellation and amendments

Third party liability insurance

Collision damage waiver

Vehicle licensing fee
Our team is here to help 24 hours a day,
7 days a week.
Best value car hire from top brands










Key facts for hiring a car in Milan
Car hire locations

There are 25 suppliers to choose from in Milan, so you won't be stuck for choice. Compare their prices using the search form at the top of this page.

Best time to visit

May and September. The city can get uncomfortably humid in the height of summer, so skirting around this time makes a lot of sense. Plus it'll be quieter.

Useful lingo

Petrol – benzina
Diesel – gasolio

Time difference

GMT + 1

Currency

Euro (EUR, €)

Hire a car in Milan
Elegant and sophisticated, Milan draws millions of visitors from across the globe each year.
Fashion capital of the world and the second-biggest city in Italy, Milan has plenty to offer its visitors. It is also surrounded by irresistible, road-trip-worthy scenery. Descend into the mountains and nearby lake lands for a tranquil getaway.
The world's first motorway was constructed in Italy, just outside Milan, making it the city the perfect place to start your historic Italian drive. Search with easyCar to find the best deal for your car hire and compare the top rental brands in Milan.


easyCar customer reviews for car hire in Milan


"Excellent, very easy to use. Better than all other sites."


"Very efficient people on the call, knowledgeable and pleasant."


"Comprehensive competetive service. Thank you. Will use it again."
Helpful advice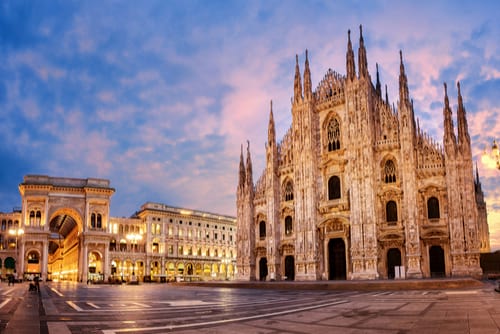 Which car is right for you?
| | |
| --- | --- |
| Mini | £14.90 |
| Economy | £17.00 |
| Compact | £23.60 |
| Intermediate | £34.70 |
What to consider when deciding on your rental?
Think about how many passengers you'll have as well as how much luggage and the amount of time you'll be spending in the car. If you're making some long city to city road trips with two or three other people and all your luggage, an intermediate sized vehicle is probably better. But if you're just making a few day trips and driving within the cities, a smaller car is best – Italy's roads are small!
Automatic or manual?
Manual cars are standard in Italy, making them the cheaper rental option. Automatic cars are hard to find and more expensive to rent in comparison. But if you aren't familiar with driving a manual car, practicing on Italy's roads is probably best avoided. Stick with the car you're most comfortable driving.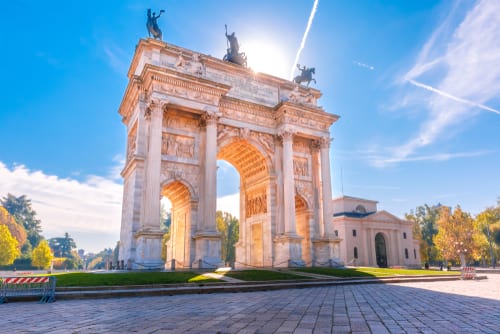 Driving the Autostrada
Type of
road
Speed limit
Built up areas
50km/h
Outside urban areas
90km/h
Autostrada
110-130km/h
The autostrada is Italy's extensive network of toll roads, which allow traffic to move faster than on the non-toll superstradas. These toll roads are indicated on green signs by the letter A followed by a number, such as the A1, which connects Milan to Florence and Rome.
When entering the autostrada, you'll be given a ticket at the gate. From there, follow the signs to your destination and pay at the toll booth when exiting. It will cost you around 20-30 Euro for taking the autostrada from Milan to another major city.
For the most part, these toll roads are fast, but on occasion the speed may drop due to construction or a steep curve in the road. Keep an eye out for any speed limit signs.
Tip: drive any long distances on the autostrada on Sundays, when trucks are not allowed on the toll roads.
Car rental in Milan – the numbers


Frequently Asked Questions
Q. What is the most popular rental length in Milan?
A. Six to seven days.
Q. When is the most popular time to rent a car in Milan?
A. July.
Q. What's the best value car hire brand in Milan?
A. Goldcar is the cheapest car rental brand in Milan, offering cars from just £3 per day.
*Based on easyCar real booking data.


Fast Facts
| | |
| --- | --- |
| November | £10.60 |
| July | £26.90 |
| | |
| --- | --- |
| Mini | £14.90 |
| Economy | £17.00 |
| Compact | £23.60 |


Tips for driving your rental car in Italy
Scenic routes
Blue signs indicate state roads – highways that are not toll roads. These may be slower than the autostrada but often much more scenic, so it depends on your timeline and priorities.
Navigation
It's well recommended that you have a navigation system handy when driving Italy as road signs aren't always clear and the country's old narrow roads can be confusing. If you want to avoid extra car hire costs, bring your own GPS device rather than renting one (which can cost up to 15,00 € per day!).
Parking
It's no secret that parking can be expensive and an irritating hassle in major Italian cities, so pre-plan where to park if you can. Try asking your hotel about parking, or look up public car parks before you travel. Alternatively, park on the outskirts of the city and take public transportation within the centre.
Useful Milan knowledge
The Congestion Charge
Like London, Milan limits the road traffic within its core during peak hours by enforcing a congestion charge. This applies to all vehicles entering Cerchia dei Bastini (the historical centre of Milan).
The charge is in place Monday, Tuesday, Wednesday and Friday from 7:30am to 7:30pm, and Thursday from 7:30am to 6:00pm.
You must buy and activate an entrance ticket no later than midnight of the next access day in order to drive within the limited traffic zone.
A daily ticket costs 5,00 € and can be purchased at parking meters, newsagents, certain ATMs or online.


Most popular rental suppliers
Which car hire supplier should I choose?
At easyCar, we gather and compare the prices of different rental companies so you don't have to spend hours searching individual sites. We've also collected thousands of customer reviews over the years to help you make the most informed decision when selecting a car hire supplier. The table below shows the ranking of our most popular suppliers in Milan (how often people have booked with them) and their ratings (how well they've been reviewed).
Our most popular
suppliers
Our highest rated
suppliers
Alamo
Europcar
Sicily By Car
Locauto
Locauto
Sicily By Car
Maggiore
Maggiore
Europcar
Alamo
Depending on your priorities, you can choose to go with the lower priced budget brand company or a more well-reviewed company. But in any case, be sure to read the fine print and look out for any extra fees.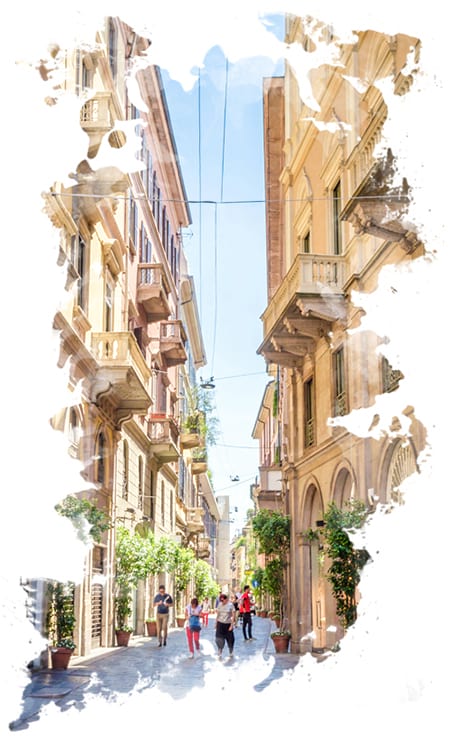 Drive to the coast
It's not all about the Amalfi
Milan is a really well-located destination if you want to get out and about by car. It might be a little ambitious to drive to the oh-so-famous Amalfi Coast but fear not, there is another gorgeous coastline much closer.
It'll take you a couple of hours, but the drive to Cinque Terre is well worth it. Park up in La Spezia and discover the picture-perfect towns of Riomaggiore, Manarola, Corniglia, Vernazza, and Monterosso by train.
A cluster of five cliffside treasures, these tiny villages hug the coastline of the Italian Riviera. Each house clings to the cliffside, the sunlight bouncing off the peeling sherbert paintwork.
It is arguably better to stay in La Spezia if you need overnight accommodation – it's close to the villages so going back and forth is simple, and you'll get way more for your money.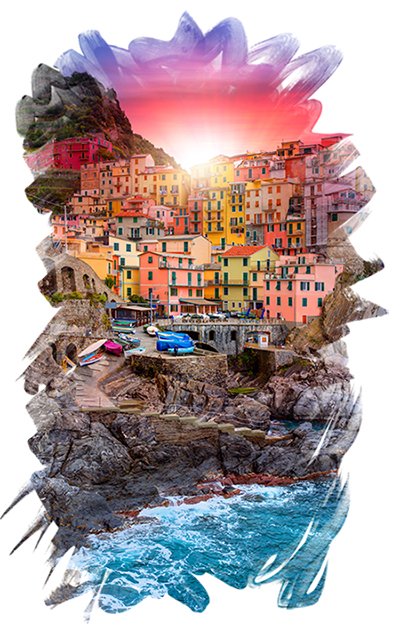 Other car hire locations in Italy