Search for car hire in Italy
Fill in the search form below to find cheap car hire in Italy
Our great prices include
Free cancellation and amendments

Third party liability insurance

Collision damage waiver

Vehicle licensing fee
Our team is here to help 24 hours a day,
7 days a week.
Best value car hire from top brands











Italy car hire tips
Where to pick up your car

There are over 315 car hire locations in Italy, and the most popular city is Milan.

Top car rental brands

The most popular car rental brands in Italy are Sicily By Car, Locauto, Alamo, Maggiore and Europcar.

Best time to hire a car

The cheapest months to pick up your car hire in Italy are November and February.

Local currency

Euro (EUR)

Side of road

Right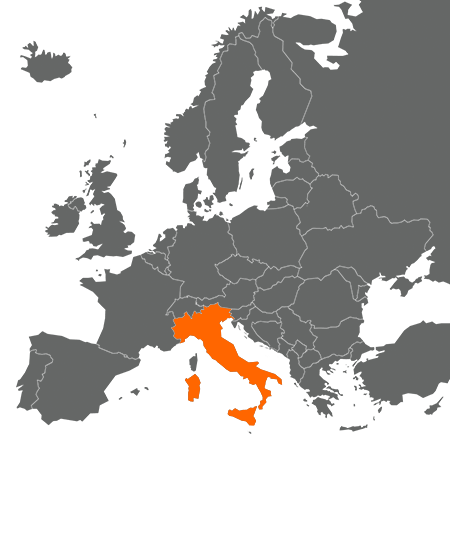 Hire a car in Italy
History, sun and food – this boot‑shaped land has it all.
There are such a diverse range of landscapes to explore by car in Italy. From the mountainous roads of the Dolomites, to the many rolling hills of Tuscany, there's something for everyone.
easyCar compares car hire suppliers across Italy for you, so that you can see all the options before making a decision.
Exploring Italy by car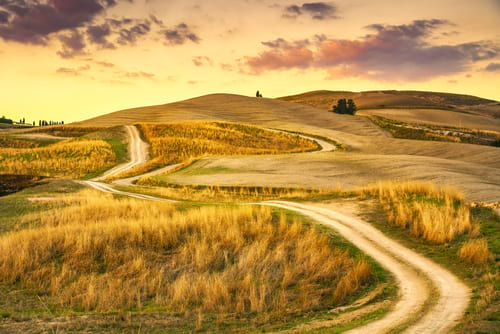 Things to note as a driver
The Italian driving mentality
Decisive driving (to put it lightly) is the norm, so Italian drivers will be much more used to this type of road user. Being extremely hesitant behind the wheel will not only confuse local drivers, it may also mean that you never get anywhere. Unlike other countries, drivers here are unlikely to let you out!
Tailgating is fairly common so don't get anxious if this happens to you. Don't feel under pressure to speed up – they will pass as soon as the opportunity arises.
The city centre rules
ZTLs (reduced traffic zones) are common in most cities where the aim is to reduce congestion and help preserve the historical centres. Drive within these and your number plate will be caught on camera, then you'll be sent a large fine via the rental company. Look carefully at any GPS routes, as they may not know to avoid these areas which could result in you driving straight into one.
Road trip tips

Trucks aren't allowed to drive on Sundays, making it a good day to travel.
Fuel is expensive in Italy, especially when compared to places such as the USA.
You must have your headlights switched on at all times of day if you are driving on an out of town road such as an autostrada.
Check whether your hotel offers parking – this can be a real money-saver if you are able to park up your rental car for free.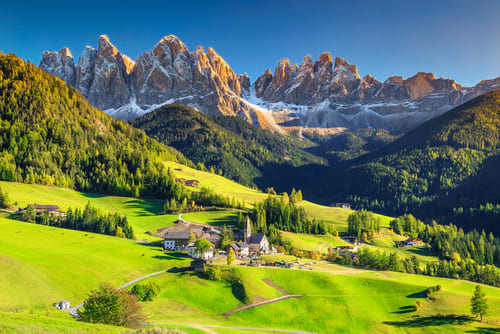 Quick driving guides
A guide to speed limits
| Type of road | Kilometres per hour |
| --- | --- |
| Highway | 130 |
| Non-major highway | 110 |
| Local roads | 90 |
| Urban areas | 50 |
Red signs with white writing on designate the maximum speed, however blue signs with white writing display the minimum speed limit. Don't get these confused!
A guide to Italian road signs
| Colour of road sign | Type of road sign |
| --- | --- |
| Green | autostrada (toll roads) |
| Blue | main highways (free) |
| Brown | tourist attractions |
| Yellow / white | restaurants |
Viamichelin
is a great website if you want to calculate the price of toll roads on your route.
A guide to Italian parking
Blue: paid parking (there will be a metre nearby where you can buy a ticket).
White: free parking (these are rare, so make sure you always check the signs. A faded blue bay can sometimes be mistaken for a white bay).
Yellow: residents or disabled badge holders.
In general, parking can be one of the trickiest parts of hiring a car in Italy. Plan ahead by using websites such as Parcheggio (the name of which is also the word for parking in Italian), so you know ahead of time where the multi-storey car parks are.
Milan
Fast car hire facts
| Cheapest / most expensive months | Average cost per day of car hire* |
| --- | --- |
| November | £13.30 |
| July | £34.30 |
(*based on a 7+day rental)
What's it famous for?
People are drawn from all over the world to see Milan because of its Duomo – the architectural masterpiece which took nearly 600 years to build. This colossal church is the third-largest in the world. Remember to book tickets in advance (people that don't are disappointed every day) as well as dress appropriately. The adjacent Piazza del Duomo is a great place to enjoy a coffee, people watch and soak in the gothic magnificence.
Where to visit
Santa Maria delle Grazie is the place to get your Da Vinci fix – the famed mural of The Last Supper is housed here. Again, this is one to book well in advance.
Local tips

Free WiFi is available throughout the city centre.
Some restaurants have dress codes, so pack something relatively fancy if you want a nice meal out.
Happy hour includes free food (stuzzichini) along with your drinks.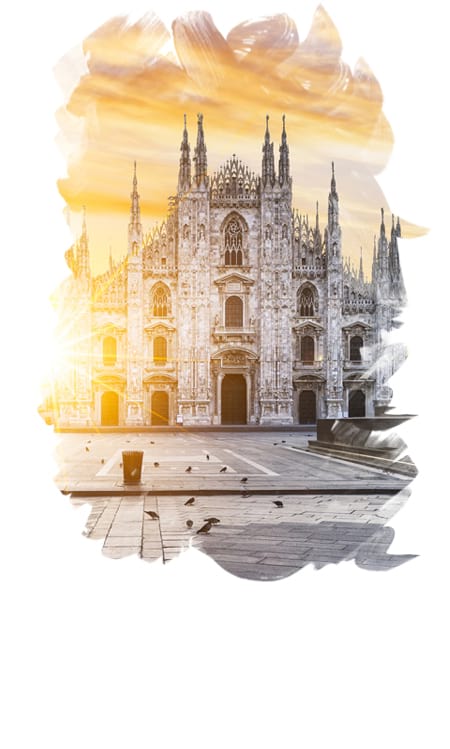 Other Italian cities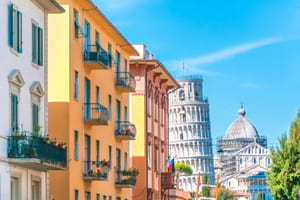 Pisa
| Cheapest / most expensive month | Average cost per day of car hire* |
| --- | --- |
| January | £10.90 |
| July | £31.00 |
(*based on a 7+day rental)
Driving tip
Parking up in Pisa isn't usually too bad, and paid parking is reasonably priced. Once you're within the city, it's a great place to wander as it isn't too big, and you'll see the most on foot.
Tourist tip
Don't underestimate the climb to the top of the Leaning Tower. There's nearly 300 steps and being a spiral staircase, you're likely to get dizzy.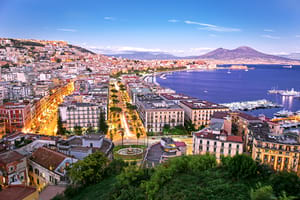 Naples
| Cheapest / most expensive month | Average cost per day of car hire* |
| --- | --- |
| February | £10.50 |
| August | £33.00 |
(*based on a 7+day rental)
Driving tip
Despite what you might think, driving from Naples to Pompeii (which is a 30 minute drive) is a really good idea. The scenery is stunning and there's plenty of parking!
Tourist tip
Be sure to try Pastiera Napoletana, it's the most popular cake in the city. Grab one on the go whilst enjoying a leisurely stroll (or passeggiata).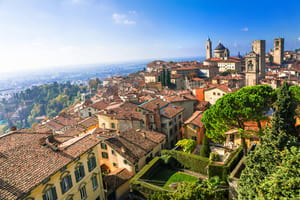 Bergamo
| Cheapest / most expensive month | Average cost per day of car hire* |
| --- | --- |
| November | £11.30 |
| July | £27.80 |
(*based on a 7+day rental)
Driving tip
Bergamo is the best-value major location to hire a car in Italy throughout the year, so it makes perfect sense to grab a bargain rental while in the area. Try Orio al Serio Airport for the best prices.
Tourist tip
Although Città Alta is a must-see, you'll get far better value accomodation in the Città Bassa. Take the funicular railway to the top of the city – it's a great part of the Bergamo experience!


Rome
Fast car hire facts
| Cheapest / most expensive month | Average cost per day of car hire* |
| --- | --- |
| February | £13.50 |
| July | £32.00 |
(*based on a 7+day rental)
What's it famous for?
The Roman Empire has left its mark on the city of Rome, and the food is also known across the world for its quality.
Where to visit
As well as the main tourist drags, seek out the quieter cobbled alleyways and you'll see another side to the city.
Local tips

Get to know the names of hotel staff. Forming simple friendships goes a long way in Italy.
Seek out the drinking fountains and you won't have to pay a penny for water.
Many museums are free on the first Sunday of the month.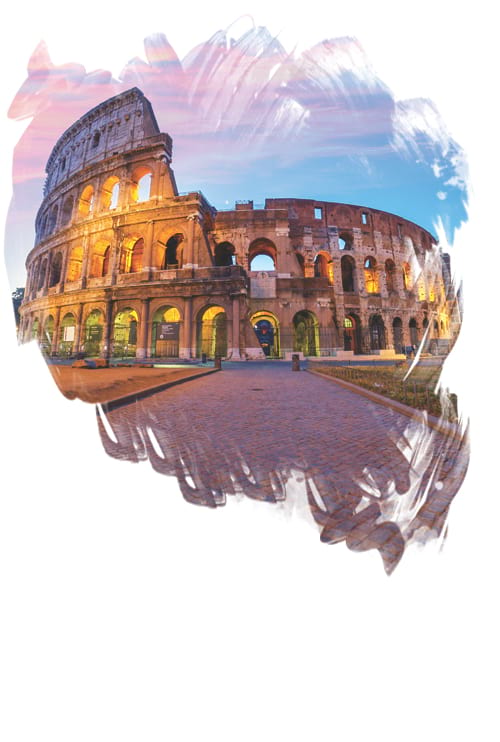 Other Italian destinations to visit


Sardinia
A large island off the West Coast
A beach lover's retreat, Sardinia has over 2,000km of coastline.


Venice
A famous canal-dominated romantic break
No matter its popularity, Venice's enchanting aura is everlasting.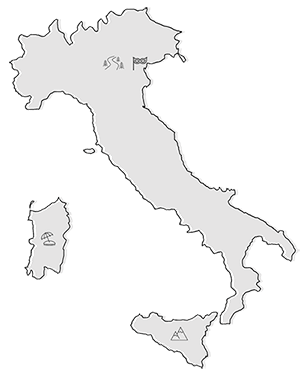 Sicily
The largest Mediterranean island
The football to Italy's boot, Sicily is great for lovers of both sea and land.


Verona
Situated in the north of Italy
Grand enough to be the setting of Romeo and Juliet, Verona is a pretty and historic city.