Search for car hire in Germany
Fill in the search form below to find cheap car hire in Germany
Our great prices include
Free cancellation and amendments

Third party liability insurance

Collision damage waiver

Vehicle licensing fee
Our team is here to help 24 hours a day,
7 days a week.
Best value car hire from top brands













Germany car hire tips
Where to pick up your car

There are over 285 car hire locations in Germany, and the most popular city is Munich.

Top car rental brands

The most popular car rental brands in Germany are Budget, Global Rent A Car, Europcar, Avis and Global Drive.

Best time to hire a car

The cheapest months to pick up your car hire in Germany are November and June.

Local currency

Euro (EUR)

Side of road

Right

Hire a car in Germany
Germany is a country bursting with wondrous places to visit.
A fascinating landscape awaits you here, and much of Germany is surprisingly green. Fine art and music have been born here, whilst the beer and parties are arguably unbeatable.
From sprawling cities, to tiny picturesque villages and hilltop castles, there are so ways to get lost in Germany's aura. Drive into the breathtaking Allgäu Alps and investigate the enticing forests beyond, or embrace the majestic waterways of the Rhine and the Danube.
Exploring Germany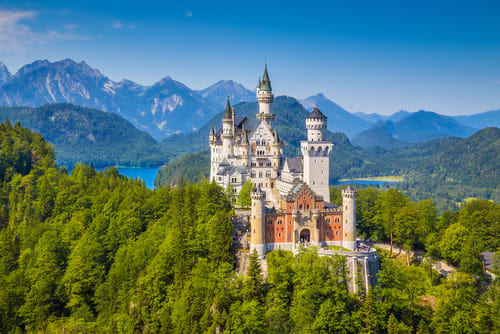 Driving tips
Autobahn etiquette
Only overtake slower vehicles by using a lane on the left. In some countries you are permitted to pass cars in any lane, but this is not the case on German roads. On a similar note, if you are driving slower than other cars, ensure you are in the right hand lane. This allows for faster cars to pass.
Fuel
Most fuel stations operate in a self-service manner where you fill your tank and then go and pay inside. Each pump will have a number, so it could be handy to learn your german numbers to avoid any confusion at the checkout.
Environmental zones
Many German cities have Green Zones, or umweltzone. If you are renting a car in Germany, your car should already be equipped with one of these, but do make sure to check.
Winter tyres
These are a legal requirement in Germany in wintry (snowy or icy) conditions. If you are hiring a car between October and April, it is sensible to have winter tyres fitted. Fines are handed out to non compliant drivers.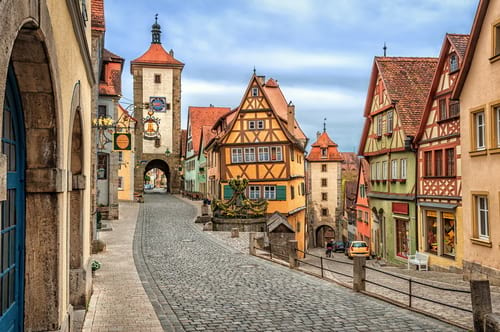 Travel tips
Money
Make sure you have cash on you (or ways of getting cash) when in Germany. Don't rely on using your cards, as even today lots of places won't accept them.
Recycling
You may come across the Pfandsystem when you travel to Germany. This is a deposit system where the customer pays an extra amount when purchasing a bottle of water or beer, and that amount is returned when the bottle is returned. Usually, you can take your used bottle to any supermarket – regardless of where you bought it – to claim your refund.
Shopping
Most shops are closed on a Sunday, so be prepared for this by planning ahead the day before. You will find a few large supermarkets stay open in bigger cities, but open shops in small towns will be hard to come by.
Local manners
Germany is a country that likes to play by the rules (queues, driving etc). It also runs in an efficient and timely way, and latecomers are not always taken kindly to. Finally, try to learn a few phrases as signs will be in German – it's useful to know that
The cosmopolitan capital
Berlin
A create capital with a fierce spirit, Berlin ticks all the boxes when it comes to a trip away. It's a huge city, with a load to offer, so make sure you spend enough time here. Not only this, but Berlin is surprisingly affordable compared to other capitals and other European cities. You can eat well and not spend a fortune, which is a major plus when on holiday.
A walking tour is one of the most inspiring ways to uncover Berlin's history, and there are also a plethora of museums and memorials to spend time at.
From trendy neighbourhoods like Friedrichshain, to regal residences like Charlottenburg Palace, Berlin is full of surprises.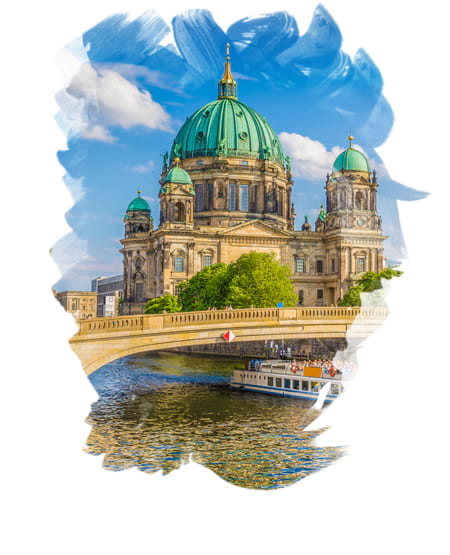 State capitals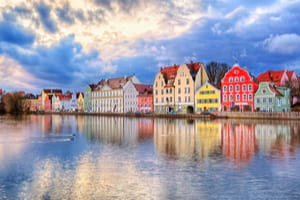 Munich
The capital of Bavaria
What
The heart of Bavaria, Munich is renowned for its annual Oktoberfest festivities, wholesome food and a friendly atmosphere.
Lederhosen and dirndls aren't all that you'll stumble on here though – opulent palaces and sprawling green spaces also make their mark here.
When
The most famous time of year to experience the city is October and Christmas time when the German markets are out in full force.
Where
From Munich, head out onto the Romantic Road – named for its gorgeous selection of towns and scenery along the way. You can drive to one of the oldest cities in Germany, Augsburg, and hunt down the enchanting fairytale turrets of Neuschwanstein.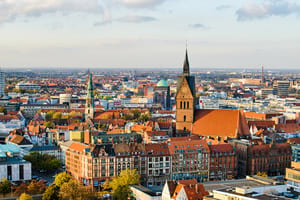 Hannover
The capital of Lower Saxony
What
Perfect for a short break, Hannover has lots to offer. A great place to start is the Red Thread, a red line tracing the city's roots around the city.
There are numerous stops along the way, and this 4km trail helps visitors quickly get acquainted with Hannover landmarks.
When
The Jazz Festival in May and the Maschsee Lake Festival in August draw in crowds from far and wide. So, if you like a visit with real purpose, these could be good options for you.
Where
Drive out of the city and you'll find just as much history in the town of Hildesheim and a modern cityscape across in Wolfsburg. Take the A7 north, and you'll bump into the major port city of Hamburg.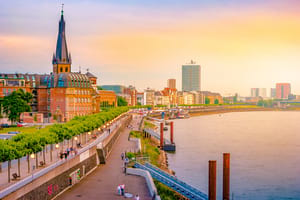 Dusseldorf
Capital of North Rhine-Westphalia
What
Perhaps too often overlooked, Dusseldorf is teeming with interesting architecture. Sitting along the banks of the serpentine Rhine, art is an extremely important part of the culture here. Visit the elegant Königsallee boulevard to window shop and people watch.
When
Many locals leave the city during the summer, so it can be quite a peaceful time to visit. Cafe culture takes over, and people sit out watching the world go by. The parks look great during spring, whilst Japan Day takes place in May.
Where
Weave your way down the river and you can greet Dusseldorf's neighbour, Cologne.


Frankfurt
A pretty city
The fifth-largest city in Germany, Frankfurt is renowned for its Christmas markets.
Things to do:
Ride the colourful 1970s tram
Cruise down the Rhine
Wander the Palmengarten
Visit writer Johann Wolfgang von Goethe's house
Southeast of Frankfurt, there is something very magical about the town of Rothenburg ob der Tauber. Inspiration for some of the world's finest fables and fairy tales, this Bavarian town is a mecca for imaginative filmmakers. The middle-aged buildings covered in fairy lights and painted fantastical colours are a photographer's dream.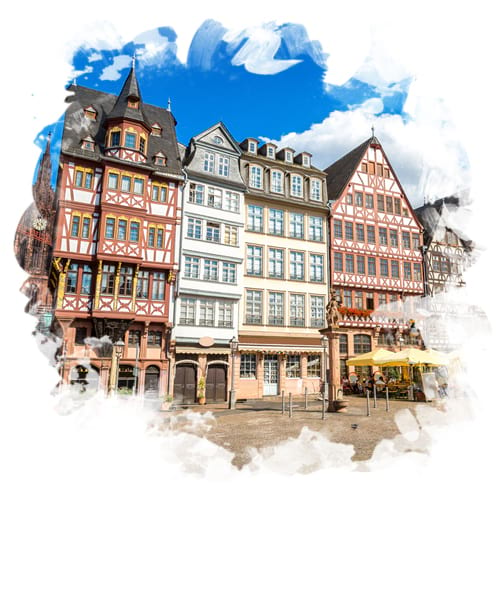 Other cities which should be on your radar
The Saxony capital, Dresden, has a skyline that is begging to be photographed. Close the the Czech border, some feel that Dresden is a most beautiful German city. Dotted with ornate buildings, it's clear where it got its nickname, 'The Jewel Box'. If you drive out of this city, you'll find numerous places where you can swim in Germany's clear, Alpine lakes.
Another town filled with magic is the birthplace of Beethoven, Bonn. The oldest city in Germany, the dramatic Drachenburg Castle sits above the town immersed in thick, green forest.
The riverside university town of Heidelberg is blessed with a breathtaking backdrop. Surrounded by a protective cocoon of forest, its two halves are split by the River Neckar and connected by the gorgeous bricks of the arched Old Bridge. Watching over Heidelberg are the enchanting ruins of a renaissance castle. There's something slightly mystical about these remains, which have been struck by lightning more than once. Nestled into the hillside, this red sandstone structure makes for heartstopping viewing.