Search for car hire in Taranto
Fill in the search form below to find cheap car hire in Taranto
Our great prices include
Free cancellation and amendments

Third party liability insurance

Collision damage waiver

Vehicle licensing fee
Our team is here to help 24 hours a day,
7 days a week.
Best value car hire from top brands









Taranto car hire tips
Where to pick up your car

The best value car rental suppliers are located near to Giardini Piazza Garibaldi.

Top car rental brands

The most popular car rental brands in Taranto are Maggiore, Avis and Europcar.

Local currency

Euro (EUR)

Average temperatures

Warmest month: August (25°C)
Coldest month: January (9°C)

Side of road

Right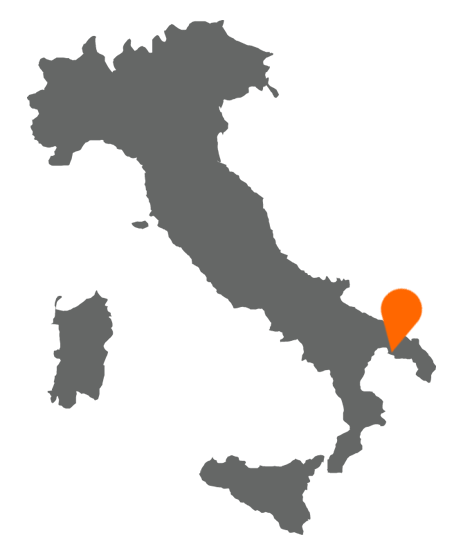 Hire a car in Taranto
A cross between busy navel port and small fisherman village, Taranto is a "city of two seas".
One of southern Italy's most historic cities, its fascinating Greek and Roman heritage has left a permeant mark on the city today. It houses one of Italy's best ancient museums and a diverse array of architectural landmarks, including Aragonese Castle and Temple of Poseidon.
Although Taranto typically gets left off the tourist track, it makes a great base for exploring the Massafra grotto and caves. And with the glorious coastlines and beaches of the surrounding Puglia region just a drive away, a road trip from the city beckons.
Sights to see
Taranto is a town with a population of just under 200,000, situated in the Puglia region, South of Italy. Taranto is unlike the more widely-known holiday destinations in the Puglia region; it's raw, authentic and unspoiled - and these should be the main reasons for your visit.
Things to do
Taranto, also known as "the city of two seas" showcases perfectly the laid-back pace of Italian life. The reason for its peculiar nickname is the fact that Taranto represents a strip of land that divides the sea, creating two bays: Mar Grande or the commercial port and Mar Piccolo. The two communicate through the Ponte Girevole, a bridge that offers a scenic view of the old town.
By talking a walk inside the heart of Taranto, you can still feel the nostalgia of what was once a proud rich city during the Roman Empire. After a dispute with Rome, Taranto was easily transformed into a fishing village but it still holds remains of its rich cultural and historic past. The old houses with flowers in windows, the small but imposing churches, are all buildings and landmarks of great architectural importance that give the feeling of an open air museum. Speaking of museums, if you feel the need to find out more about the local history, we advise you to go to National Archaeology Museum and explore the former glory of Taranto in your imagination.
Continuing the walk through the city center, the pedestrianised streets are lined with shops, cafes and restaurants. As in any part of Italy, the cuisine is many times the highlight of the trip. A restaurant we highly recommend is Gatto Rosso - an authentic slice of traditional dishes from the area, including their delightful house special of pasta with mussels.
Exploring
One more thing that makes Taranto a great destination is its proximity to Marina di Ginosa, a natural oasis beside the sea. Here you can experience a novel bathing experience compared to Italian seaside resorts, as there are nowhere near as many tourists. The warm water and the breathtaking beach landscape make Marina di Ginosa the perfect spot for relaxation.
At a 10-minute drive from the beach, you can find Lake of Salinella, another spectacular landmark of Taranto beauty. If you go there don't forget to bring the camera with you as you're about to see some amazing bird species, along with beautiful panoramas.
Continue driving a bit further from Taranto city until you reach Lecce. Also named "the Florence of the South" this picture-perfect baroque city will delight you so much that you might want to spend a whole day here.
Another perfect day trip for you should be the village of Alberobello, a UNESCO World Heritage site. The place seems taken from a children's book illustration due to its trulli, the surreal looking buildings that make it famous. If you're wonder how the buildings get the peculiar shape, it's all down to the innovation of the local 15th century architects - they built conical roofs which could be disassembled easily to avoid paying tax.
In order to move fast and be able to visit all these fantastic sights within the limited time frame of your vacation, we strongly encourage you to rent a car. Taranto and its surroundings are so beautiful, you won't want to miss a thing.
Other car hire locations in Italy