Search for car hire in the Canary Islands
Fill in the search form below to find cheap car hire in the Canary Islands
Our great prices include
Free cancellation and amendments

Third party liability insurance

Collision damage waiver

Vehicle licensing fee
Our team is here to help 24 hours a day,
7 days a week.
Best value car hire from top brands
















Key facts for hiring a car in the Canary Islands
When to visit

The Canaries are an ideal location to soak up some winter sun. We recommend you go between February and May.

Where to pick up your car

There are over 50 locations in the Canary Islands, but you'll almost always get the best price at the airport.

Currency

Euro (EUR)

Top car rental brands

The most popular car rental brands are Goldcar, Thrifty, Budget and Hertz.

Must-try

Tapas with Mojo – a sauce made of garlic, oil and various spices and herbs.


Welcome to the Canaries
The Canary Islands have a rich history and are hugely popular with tourists looking for a sun-soaked escape.
Just off the coast of Morocco and Western Sahara, this Spanish archipelago is made up of 7 major islands – each with their own unique personality – so you can be sure that you'll find the perfect spot for your holiday. From the idyllic stillness of La Palma to all-night raves of Lanzarote and Tenerife, you'll discover exactly what you're looking for and so much more.
Fuerteventura
Action and Adventure
If you love the water, head straight for Fuerteventura. With the longest beaches of any of the Canary Islands, Fuerteventura is packed with equipment and instructors for every water sport under the sun. If you're staying for a week or more, sign up for a 3-day diving school course where you can earn a certification. You can also hire equipment for kayaking, jet skiing, surfing or, if you've won big at the casino, even charter a yacht.
If fishing is more your thing, visit Fuerteventura in September for the Big Game Fishing Tournament. This is also the perfect time to try out shark fishing, as the season for this runs from September to October.
If you're hiring equipment for more than a day, make sure the car that you hire is big enough (and has the right fittings) to transfer your gear to and from the beach. Fuerteventura is such a small island that you may not need a car every single day – plan ahead and work out whether it makes more sense to rent a car for only part of your trip.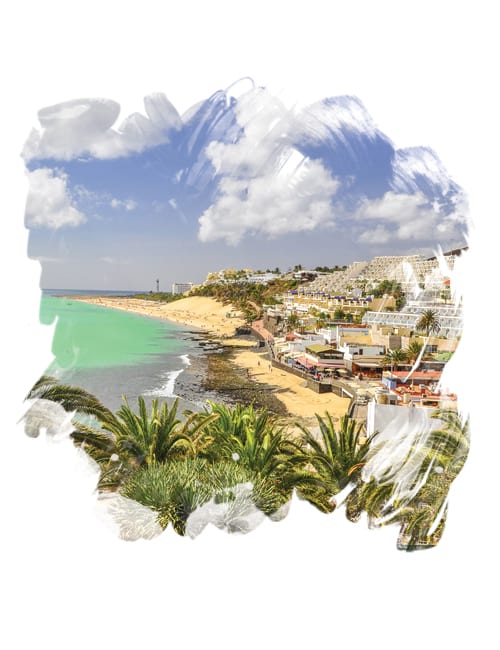 Resort central – Lanzarote, Gran Canaria, Tenerife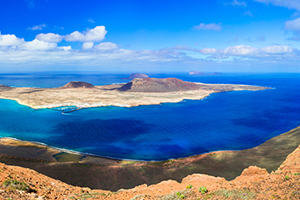 Lanzarote
Airport: Lanzarote Airport (ACE)
Best known for its resorts, Lanzarote also has a busy capital, Arrecife, where you can stay if you're avoiding the resort crowds.
Playa Blanca
(30 mins drive from ACE)
As the newest resort, Playa Blanca is a bit pricier than the others. It's a long way from the airport, so make sure you hire a car to get here (a return taxi often costs more than a week's car rental!)
Costa Teguise
(20 mins drive from ACE)
Closest to the airport, this resort feels like a bite-sized version of Fuerteventura, with its focus on water sports and fishing. It's windier than the other resorts so you may need to bring a second layer, even in summer.
Puerto Calero
(15 mins drive from ACE)
Looking for something a bit different? This tiny resort has no beach and revolves around its marina. Head to Puerto Calero if you're looking for a touch of luxury; charter a yacht, play a few rounds of golf, just don't expect to have time to sunbathe!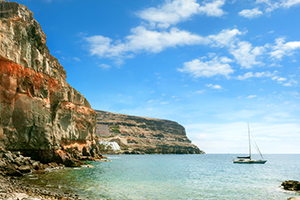 Gran Canaria
Airport: Las Palmas de Gran Canaria Airport (LPA)
Despite its name, Gran Canaria is actually just the third-largest island in the Canaries (beaten to the punch by Tenerife and Fuerteventura).
Playa del Ingles
(20 mins drive from LPA)
As the name suggests, this resort is aimed squarely at the European traveller. Great if you're travelling in a big group, as there is a variety of activities (golf, shopping, beaches and more) in a small space.
Las Palmas
(20 mins drive from LPA)
The capital of the island, and for good reason. Based around one long road, it takes a long time to get from one end to the other – but it's totally worth it. Make sure you check out the castle of light in nearby La Isleta.
Puerto Rico
(40 mins drive from LPA)
A lot further out than other resorts, it makes sense to rent a car for the length of your stay here. This resort has a Costa del Sol vibe – if that's the sort of thing you like, you'll love it here.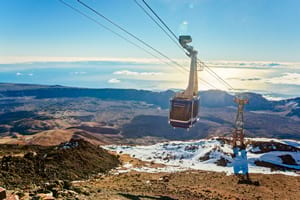 Tenerife
Airport: Tenerife has two airports, but you'll probably be flying in to Tenerife South (TFS).
Tenerife, the largest of the Canaries, also offers some of the best weather and most heavenly beaches in the world.
Playa San Juan
(30 mins drive from TFS)
Come here to learn some Spanish and soak up the culture. Its nightlife is pretty tame compared with other tourist spots but that's its whole appeal.
Los Gigantes
(35 mins drive from TFS)
Visit this resort for English and Irish pubs, karaoke and a thriving nightlife. Check out the amazing black sand beaches, but make sure you bring flip-flops or sandals: the sand gets seriously hot!
Playa Paraiso
(15 mins from TFS)
We'll be honest with you, Playa Paraiso isn't the most beautiful area in Tenerife. There's constant construction work going on here which is difficult to avoid, but it's very cheap because of it. Just make sure you hire a car so that you can explore more idyllic areas of the island with ease.


La Palma
Natural beauty, no need for a filter
La Palma is one of the smallest of the main islands, and by far the most beautiful. Perhaps at the core of its beauty is its peacefulness compared with somewhat rowdier neighbours.
If you like greenery, nature and hiking, La Palma is the place to be. The National Park Caldera de Taburiente is a must-see if you're visiting the island. The terrain is hard work, so it's not for the faint hearted, but the views are totally worth the effort.
There aren't many resorts here, and the ones that do exist are a lot quieter than those on the other islands. Unsurprisingly, the night life isn't as good, but in return you'll experience the sort of tranquillity that you wouldn't usually see in this corner of the world.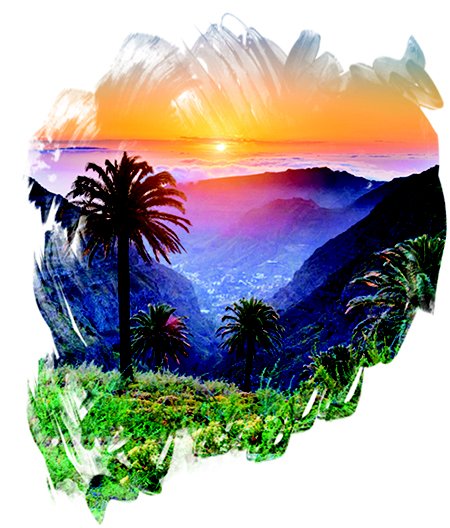 A touch of wilderness – El Hierro and La Gomera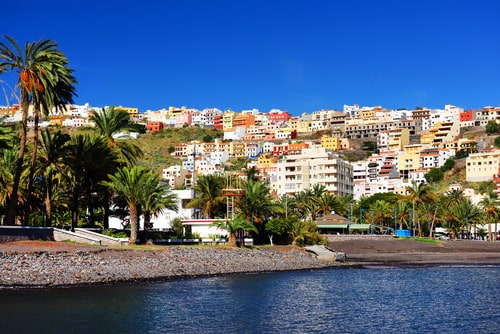 La Gomera
The travel blogger's dream
For those looking to broaden their horizons and soak up the culture, La Gomera couldn't be more perfect. Book a meditation retreat in island wilderness then head to the beach to catch the spectacular sunset.
La Gomera is far quieter than its more popular neighbours and doesn't rely as much on tourism – don't expect everyone to have a working level of English, but expect to discover genuine Canary-Islander culture.
There are car hire options at La Gomera's airport, but it may be more convenient to pick one up at the port on the northeastern side of the island.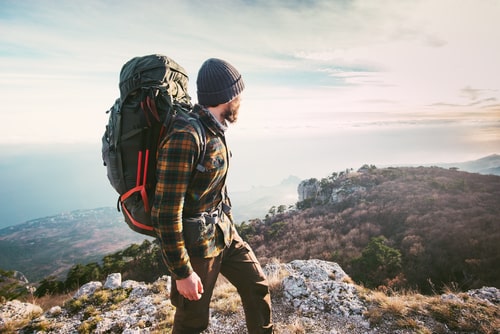 El Hierro
Get to see the wood for the trees
At less than 300km squared, El Hierro is tiny. Don't plan a long holiday here – there isn't enough to do unless you really, really like hiking in the woods. Instead, start at another nearby island and take the ferry to El Hierro for a day trip.
Its highest point, Pico de Malpaso, literally means "peak of difficult steps". Don't worry, though – it has a perfectly good road and takes less than an hour to get to from the airport.