Search for car hire in California
Fill in the search form below to find cheap car hire in California
Our great prices include
Free cancellation and amendments

Third party liability insurance

Collision damage waiver

Vehicle licensing fee
Our team is here to help 24 hours a day,
7 days a week.
Best value car hire from top brands








Key facts for hiring a car in California
Car hire locations

There are over 73 locations where you can hire a car in California and the most popular city is Los Angeles.

Best time to visit

Some parts of California see sun all year round.

Not to be missed

The giant California redwoods, found in various national parks.

Average temperatures

California has a huge range of temperatures. The desert can easily reach 45°C, while some northern areas at altitude will comfortably reach -22°C.

Currency

US Dollar ($, USD)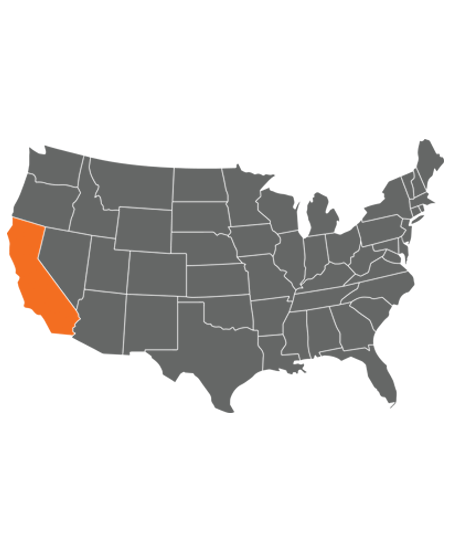 Hire a car in California
From heavenly beaches to extraordinary mountain ranges, the Californian landscape is varied, contrasting and unforgettable.
California is built for a road trip. With such a diverse range of places to see and over 80,000 kilometres of road to help get you there, hiring a car is a seriously popular choice here. Whether the most renowned landmarks are at the top of your bucket list or you're seeking the West Coast's most secretive corners, the pristine highways in this gorgeous American state will take you there.
Exploring California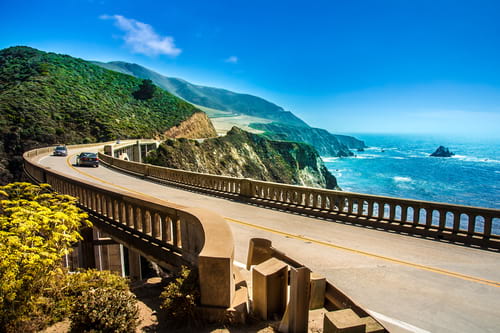 Driving tips
Plan ahead – California is bigger than people expect. Long drives can get tiring so come up with an itinerary well before you leave, ensuring you have enough stops planned on your way up or down the coast. This is not only as you'll want to rest regularly, but because you'll miss you on so much if you don't!
Top up the tank – If you're heading into remote areas such as the desert or mountains, have a petrol plan! It'll become tricky to fill up once you are well on your way into a vast expanse of not a lot – so fill up before hand. It's also worth noting that gas stations expect you to pay before you fill up. Usually this means taking your card into the sales merchant first.
Get in lane – There are carpooling lanes in operation in California. These are sometimes known as diamond lanes to match their sign. If you aren't solo travelling, make the most of these lanes as they can save you time.
Prepare for the junctions – Look out for four way stop signs. They will appear at intersections in and outside of cities and right of way is decided by who gets there first. So, if there are any cars already at the intersection, you must let them pull out before you do.
Parking up – Curbs are colour coded, indicating whether you can park there. Some rules of thumb are blue for disabled, red for no parking and various other colours (white and yellow) for restricted parking. Always check the signs!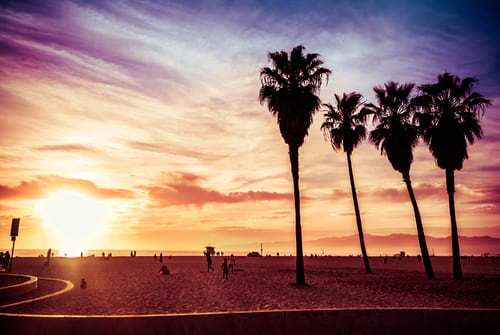 Weather
What: Much of California is blessed with lovely temperatures year round. Lots of cities experience a an almost Mediterranean climate, so there's plenty of sun to go around. However, the temperatures change drastically depending on where you are in the state.
Cooler climates –In the more northern areas (Monterey upwards) fog can make an appearance. Dense bouts of fog are fairly typical in San Francisco, but this component of San Fran's strange microclimate adds to its charm. Half of the city can be enveloped in fog while the other half basks in the determined sun. It can get unpredictably cool here, so bring a jumper even in the height of summer.
Scorching sun –California's Death Valley is home to the hottest US temperature on record. If you're planning to explore isolated areas of the desert, you'll need to be well prepared for the heat.
When: Peak season runs from June to August, these summer months seeing the majority of tourists. This is largely due to the great weather.
If this is when you are planning to go, don't worry. The great thing about The States is their vastness. Regardless of how many visitors California gets, it's easy to get lost in the quiet – especially out on the open road. The desert roads are incredibly peaceful, and even famous routes like Highway 1 are so extensive, you'll have endless stretches to yourself all year round.
One big, epic Californian road trip
San Francisco Airport


SFO

The starting point for our monster road trip (we'd recommend making some smaller stops on the way and taking 2-3 weeks to complete this).

Yosemite National Park

– 300km

Breathtaking national park with curvaceous roads, tree-filled valleys and waterfalls.

Monterey

– 320km

Whale watching and sensational seafood dominate this quiet and historic coastal town.

Los Angeles

– 500km

The city of angels is impressively versatile from its hipster beach vibes to its Walk of Fame.

San Diego

 – 200km

Close to the Mexican border, near perfect weather and exciting attractions are guaranteed year round.

Palm Springs

 – 200km

The ultimate desert resort, this high-temperatured haven is ideal for those who love a poolside lifestyle.


General travel tips
Things to remember
California is in the Pacific Time Zone (GMT +1). It's useful to know that – because of its size – there are many different time zones in the United States. If you decide to travel East (for example, into Arizona) the time may change.
Value Added Tax (VAT) isn't usually included in the retail price of things in America. This can come as a surprise to those who are used to the ticketed price being the price you are asked to pay at the till. It's worth remembering that the final bill will be more.
If you drive into areas with traffic (such as downtown LA) in a convertible, keep the top up and the air conditioning on. Stuck in a jam in the blistering heat is uncomfortable and you will burn in no time.
Route 66
The classic road trip
The Golden State is such a great starting point for a road trip, and there's a choice of excellent roads to try out. Here's some inspiration if you want to narrow it down.
From: Los Angeles to the Mojave Desert
Distance: 370km
Time: 4 hours
Perhaps the most iconic road trip in the world, the end of Route 66 lies in Santa Monica, Los Angeles. You can pick up a piece of the trail in LA, or die hard road trippers who want to experience a slice of American history can visit this historic route way out in the Mojave Desert (Highway 40). In a few hours you'll be cruising past the many ghost towns that exist on this desert trail.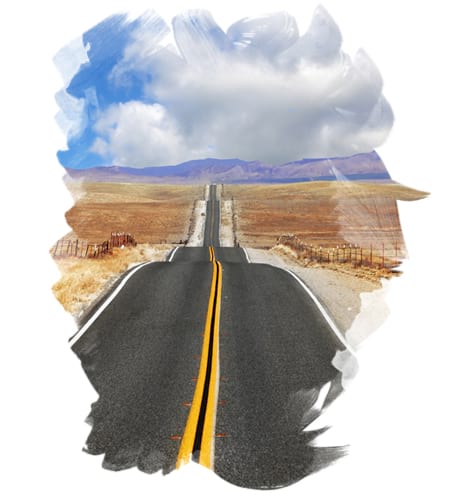 Highway 1
The scenic road trip
From: San Francisco to Santa Barbara
Distance: 523km
Time: 5 hours
Highway 1 is picturesque driving perfection. Roads don't get much better than this. Running along the state's coastline, connecting cities like San Fran and Monterey Route 1 indulges you with an infinite supply of sublime scenery. Highlights include Carmel, Big Sur and Morro Bay. You can even veer off from the highway to visit Disneyland in Anaheim, just south of LA.
NOTE: Check before you set off, as recent landslides have caused the partial closure of sections of this coastal road. Other roads like the 101 are a suitable alternative.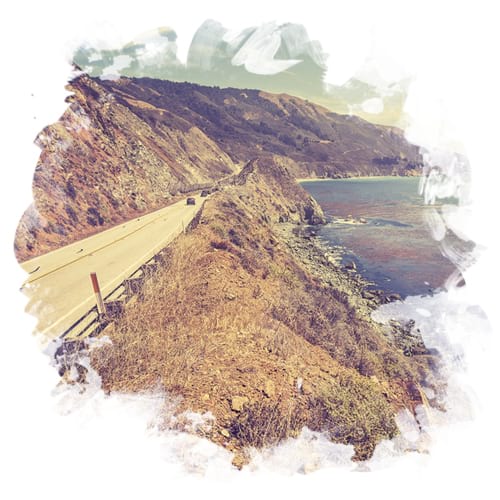 Show-stopping cities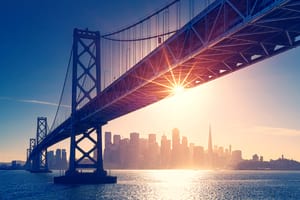 San Francisco
A small city with a big heart. Home to what have been voted two of the most popular tourist attractions in the US, Alcatraz and The Golden Gate Bridge, this city is on most people's bucket list.
San Francisco is the place where technology meets innovation, and stand-out landmarks are around each unconventional corner. From traditional trams to the prized painted ladies, the exaggerated bends of Lombard Street to the eccentricity of Fisherman's Wharf, there is so much to explore.
If you're a fan of tech, head south to San Jose, home to Silicon Valley. This area is also full of mountainous state parks, so is ideal for the aspiring mountain climber.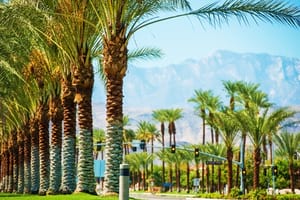 Palm Springs
Palm Springs is a perfect stop-off for those embarking on a Californian road trip. Situated between Los Angeles and Las Vegas, travellers welcome the prospect of a sprawling, excitable haven in the midst of a whole lot of sand, cacti and mountains.
Settle in, and experience a night of quirky street-side musicians, catch Polynesian beach vibes at one of the many tiki bars and chill out in the blazing sun. The parties and the palm trees meld together here to make up the most unique city Riverside County has on its books.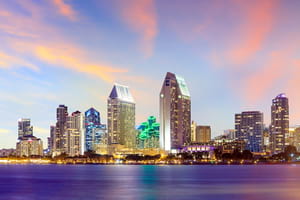 San Diego
Sun, sea and a spectacular city. San Diego is filled with attractions and surfing vibes.
Head to Point Loma where you can park up and get views of the city and bay. From there you can walk up the Bayside Trail to the end of the peninsula.
If this isn't enough, then the city itself has something known as the 59 Mile Scenic Drive: blue signs with seagulls on direct you through the best driving route in San Diego. It's the perfect place to have a rental car.