A guide to driving in France
Driving abroad: France
France is one of the most exciting places in the world to get behind the wheel.
With great quality roads and diverse scenery, the way you travel between French destinations is a no brainer. Yet, navigating the rules of the road in a new country can be daunting. To help with this, we've compiled a comprehensive guide to driving in France.
From tolls to T junctions, you'll find everything you need to know about the French highways right here so that you feel at ease on your trip to the largest country in Western Europe.
French toll roads
How to pay the tolls
Toll booths appear at different intervals along the French motorways, known as Autoroutes. The more distance you cover, the more booths you will encounter. On entering a tolled section of road, you will drive through a barrier where you will issued a ticket. You'll come across another booth when you are required to pay the fee for that stretch of road.
The easiest way to pay tolls in France is to keep plenty of spare coins with you in the car. When approaching the toll booths, the lanes which accept cash (along with other types of payment) are marked with a green downward facing arrow. Some lanes accept card, and these are marked with a card symbol, however these do not accept cash so you run the risk of getting stuck if your card isn't accepted.


The pros and cons of using toll roads in France
Pros
Cons

French toll roads tend to be very well maintained, so you know that you won't be in for a bumpy ride!
Toll roads tend to be multi-lane highways meaning that the flow of traffic is often better and you won't sit in endless jams.
The speed limits are likely to be higher when compared to smaller country roads, which will result in you arriving at your destination more quickly.
Average speeds tend to be more consistent and therefore your petrol will go further.

Whilst endless miles of pristine tarmac is great for getting places, the toll roads lack the views that the smaller winding routes offer.
Visiting quaint villages en route can be all part of France's charm, but if you use the tolls then spontaneous stop offs become less likely.
Food in lovely local villages will far outrank the food you'll be offered at motorway service stations.
The cost of using toll roads can have an impact on your overall budget.


Example toll fees for common journeys in France
| | |
| --- | --- |
| Paris to Caen | 29.10 EUR |
| Lyon to Montpellier | 27.00 EUR |
| Nantes to Bordeaux | 25.80 EUR |
| Toulouse to Limoges | 15.90 EUR |
| Brest to Orleans | 14.20 EUR |
Types of road
| | | |
| --- | --- | --- |
| | Autoroute | Signs will read Péage to indicate that you need to pay. |
| | National roads | Labelled beginning with the letter N. These roads are free to drive on. |
| | Departmental roads | Labelled beginning with the letter D, often offering a more scenic route. |
| | E road | Part of a network of roads which run throughout Europe. |


What needs to be in your rental car
Every country has slightly different legal requirements when it comes to what you need to have in your rental vehicle. Here are some important ones to remember for when you're planning to drive in France.


Breathalyser
This is a legal requirement in France, however rental companies should provide this. Always check before you drive off. These were introduced in 2012 to actively encourage drivers to test themselves before they drive if they are unsure they are within the legal limit.
If you find that the rental car does not have a kit, you should be able to pick one up at a local pharmacy or garage for a couple of Euros.


Warning triangle and reflective jacket
These are both to keep you and other road users safe in case of an incident or breakdown. In the event of an incident, the warning triangle must be placed at least 30m away from the obstruction, giving drivers a good amount of time to react appropriately.
By law, the car is supposed to have one high vis jacket per occupant. Not all car hire companies will provide these so do your research beforehand.


Documents
Keep all your car rental documents with you that you are given when you collect the car, as well as your driving licence in case you are pulled over. Other items that identify you, such as your passport, could also prove useful.
Have on hand any contact details you need in case of an emergency too, such as who to call if you are involved in an accident.
France: quick driving tips
One way rentals

A road trip is a classic way to enjoy the country of France. With one way rentals, you can drop your car off in a different place to where you collected it – a useful option to bare in mind.

Speed detection

Ensure any navigation systems you bring along with you (or you hire) have any radar detection switched off. It is illegal to use this feature in France.

Alcohol restrictions

The laws in France are stricter than in many countries, so the best advice is do not drink and drive. More than 0.5mg/ml of alcohol per litre in your blood is over the legal limit.

Headlights

It is recommended that road users keep their dipped headlights on at all times in France.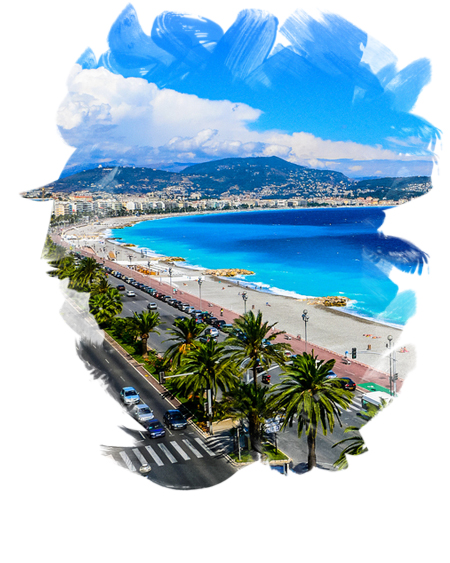 French Crit'Air clean air stickers


Q. What is a Crit'Air vignette?
A. These coloured-coded vignettes were introduced in France in 2017 to identify polluting vehicles in certain city centres.
Q. In which cities are these stickers required?
A. Currently, Paris, Lille, Lyon, Grenoble, Strasbourg, Toulouse, Chambery and Marseille operate this scheme, however it's best to check before you travel as new cities are participating all the time.
Q. Do I need to get a sticker?
A. If you're hiring a car, it's the rental company's responsibility to provide the correct sticker for the car you hire, so you can check with them at the desk. Check carefully if you are planning on driving into France from another country, as they may not provide one at, for instance, a Swiss depot.
Speed limits


What are the French speed limits?
| | | |
| --- | --- | --- |
| Urban road / built up areas | 50km/h (31mph) | 50km/h (31mph) |
| Rural roads / outside built up areas | 80km/h*( 50mph) | 70km/h (43mph) |
| Dual carriageway | 110 km/h (68mph) | 100 km/h (62mph) |
| Toll motorways | 130 km/h (80mph) | 110 km/h (68mph) |


Important info
Amended speed limit – *This is a new speed limit which was lowered from 90km/h in June 2018 to reduce the number of accidents on the roads.
New drivers – Wet weather limits apply to new drivers with less than two years experience in all weather conditions.
Rappel – If you see the word rappel below a speed limit sign, this means 'remember' or 'reminder' that you should already be doing this speed limit.
Péage – The word péage indicates that the road is a toll road.


Good to know:


Horns
In France, you must only use your horn to alert others of immediate danger.


Headphones
A law was introduced in France in 2015 making it illegal to use headphones or headsets whilst driving.


Priority to the right
Probably the most unusual rule of the road in France if you're not used to it. You must give way to vehicles joining your road from an adjoining road on the right.


Speed limits
The legal speed limits in France change depending on the weather.
Villages étapes
A useful stop-off
Situated near to French motorways, villages étapes are easily accessed towns designed to act as a rest stop for travellers. There are around 30 in France, and they are usually well signposted from the main road. They are filled with amenities, most offering shops, restaurants, hotels, campsites, picnic areas and walking trails.
Uzerche – in the Limousine region – is an example of a particularly pretty village étapes which boasts historical significance, while the Breton commune of Josselin is famed for its castle which is nicknamed 'the doll house' because of the doll museum inside.

Signs like this will let you know when you are entering a village étapes.
Road signs in France
| | | |
| --- | --- | --- |
| | Priority on turn | On the approaching turn, you have right of way over those joining the road. |
| | Right of way | You are on a road which is approaching an intersection, but you have priority. |
| | Environmental zone | This sign indicates that you are entering a zone where you need to display a Crit'Air vignette. |
| | Emergency stop | If you see this sign, it's informing you that there is an emergency area to pull in up ahead. |