A guide to driving in Spain
Driving abroad: Spain
Driving in Spain is a fantastic way to get to know the country.
Whether you're hoping to explore the mainland or one of the many islands, Spain has plenty to offer. Feeling confident on the roads is a big part of enjoying your trip, so we are here to help.
Take a look at our guide to driving in Spain, and get ready for your visit to one of the most popular countries to visit in the world.
Spain: quick driving tips
Snow chains

These are required in mountainous areas during winter, so you may be subject to winterisation fees if this applies to you.

Child seats

Under 12 are not allowed to sit in the front passenger seat of a vehicle. Children under 53 inches/135cm tall must also sit in an infant, child or booster seat.

Mobile phones

As with most countries, mobile phones are illegal while driving. They can only be used when parked away from traffic – and this doesn't mean stopped on the shoulder of the road. You may only use a hands free device without headphones.

Red lights

Turning right on a red is only allowed if there is a green arrow indicting it is okay to do so or a flashing amber light.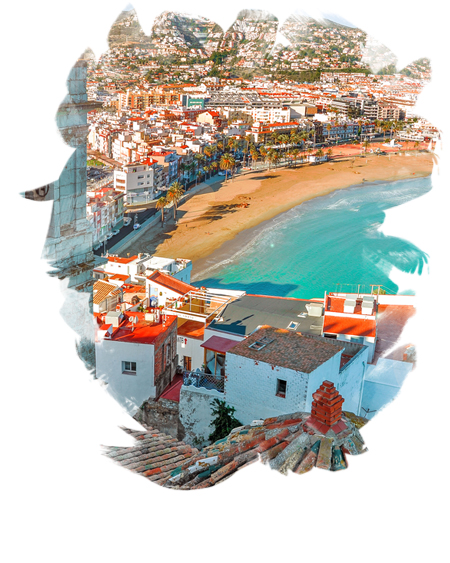 Driving age in Spain
Why do younger drivers pay more?
Being under 25 and wanting to hire a car can come with added costs and complications. Unfortunately, because younger drivers have less experience on the road, they tend to have a higher chance of getting in a car accident. This means that car rental companies take more of a risk when they rent a car to someone below a certain age. The consequence for a young renter being extra fees. The charts below give you some idea of the extra costs and age requirements for renting a car in Spain.
Age restrictions and fees
| | |
| --- | --- |
| What is the minimum age to drive in Spain? | You must be at least 18 years old to get a driving licence in Spain. |
| What is the minimum age to rent a car in Spain? | Most companies require you you to be at least 21, but a select few will rent to 18 year olds. Restrictions may apply on which cars you can rent as a young driver. |
| Is there a young driver's fee in Spain? | Yes, if you are aged 21-24 most car rental companies will charge a young driver's fee. This will vary from company to company, so it's worth comparing prices. |
Sixt

Sixt are a really useful company to go for if you are hoping to drive in Spain and are as young as 18. In Spain, if you book through easyCar, Sixt will charge an extra £15.75 per day in young driver's fees during your rental.

Nomadcar

Nomadcar offer cars to drivers from age 18, and have depots at Malaga Airport and Barcelona Airport. They even offer a meet and greet service so that you don't have to worry about those dreaded queues. Their young driver fees start from £4.38 per day.

Ok Rent a Car

To rent from Ok Rent a Car in Spain you must be at least 19 years old and have held your licence for at least two years. Their young driver fee is £21.01 per rental.


Spanish road signs
When driving in Spain, you may come across a range of road signs that you don't recognise as they aren't used in the country you usually drive in. Here are a few examples of Spanish road signs which are useful to understand.


No parking
This sign is part of a category of signs known as prohibitive signs. These signs will be circular and detail what a car is and isn't allowed to do within a certain area. Other examples include speed limits and no entry signs.


Minimum speed limit
Some countries have minimum speed limit signs, and in Spain they are blue. Maximum speed limit signs are written black on white within a red circle.

Priority road
You are driving on a priority road. This means that if you come across intersections, other traffic will give way to you. The opposite sign has a black line through it shows the end of a priority road and a return to normal road rules.


Good to know:


Petrol
Petrol type
Average price
Regular unleaded 95 /
sin polo 95
1.35
Premium unleaded 98 /
sin plomo 98
1.46
Diesel /
gasoleo
1.27
It is easy to find petrol stations in busy regions, though it's best to fill up before heading into more rural areas. Petrol is generally cheaper in Spain than in the UK and other European countries.
Tip: It is mandatory to have your engine, lights and car radios off when re-fuelling. You could be fined up to 91 for filling up with the radio on.


Speed limits
| | |
| --- | --- |
| Towns / built-up areas | 30mph / 50km |
| Open roads / rural / single carriageways | 55-60mph / 90km |
| Dual carriageway | 68mph / 100km |
| Tolled and un-tolled motorways | 75mph / 120km |
In Spain, an autopista is the equivalent of a motorway, and an autovia is a dual carriageway. Cyclists are sometimes allowed to use autovias, so don't be surprised if you see them.
Tip: While autopistas cost money to use, they are most often light on traffic meaning that the journey can be a lot more pleasant.
Extra info


Required documents and items
| | |
| --- | --- |
| Licence | Full licence for one minimum of one year |
| International Driving Permit | Yes, if you are from the USA |
| Passport and driving licence | To always be carried while driving |
| Warning Triangle | Yes, must have two in car |
| Reflective Vest | Yes |
| Spare bulbs | Yes |
| Headlamp beam deflectors | Yes |
| Prescription glasses | If you require glasses, you must carry an extra pair in the car |


Driving basics
| | |
| --- | --- |
| Driving side | Drive on the right and overtake on the left |
| Give way to... | ...traffic from left. At an intersection , drivers must give way to vehicles coming from the right. |
| Traffic lights | Traffic lights in Spain follow the standard Vienna Convention or red, amber, green. |
| Tolls | "peaje" – toll road; often quicker; €2.20 to over €30 depending on your route. Cash and card accepted. |
Types of road in Spain
| | | |
| --- | --- | --- |
| | Autovia | A free motorway marked with an A alongside the road number. |
| | Autopistas de peaje | Toll motorway marked with an AP and the road number. |
| | European road | Dual carriageway marked with an E; traffic heavy during peak seasons (never tolled). Sometimes E roads can be part autovia. |
| | National route | State owned roads; many of these have been upgraded to motorways. |