A guide to driving in the UK
Driving abroad: The UK
Offering everything from buzzing cities to ancient monuments, the UK is most easy to explore by car.
The UK is one of the most popular countries to visit in the world, but its public transport between destinations leave a lot to be desired. Trains are available between cities, but they often cost 3 or 4 times the cost of driving there. Luckily for visitors to the UK, there are hundreds of car rental suppliers to choose from, giving you the convenience of a car without breaking the bank.
If you're heading to the UK from Europe, you'll be familiar with a lot of the driving rules already – just make sure you switch which side of the road you're driving on! However, there are some rules unique to the UK that can catch holidaymakers out. Read on for our top tips on driving and renting a car in the UK…
The UK: quick driving tips
Manual cars

It is far more common to drive a manual car in the UK, compared to an automatic. If you want to hire an automatic, make sure you filter by car type. Be aware that automatic vehicles may be priced higher due to their limited availability.

Emergency vehicles

If you see an emergency vehicle with flashing lights, you must allow them to pass by pulling over when it's safe to do so.

Alcohol restrictions

The best advice no matter which country you're driving in, is not to get behind the wheel if you've had a drink. By law, you must not have any more than 35 microgrammes of alcohol per 100 millilitres of breath when driving in the UK.

Headlights

Often, road users in the UK flash their headlights as a thank you, or to let another car join the road.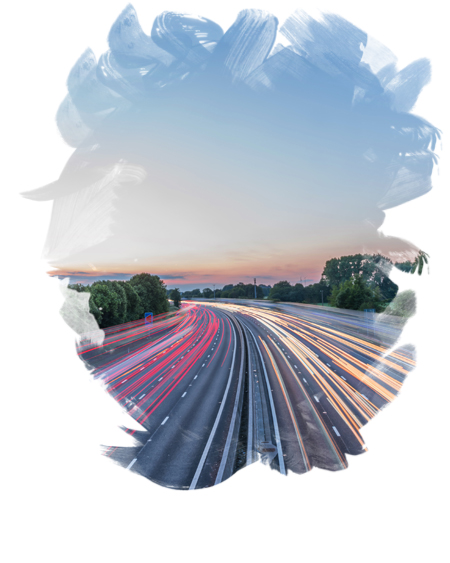 Roundabouts
Not all countries have roundabouts, but in the UK they are one of the main types of junction you will come across. It's important that you know how to navigate them. They may appear challenging at first, but once you've got your head around them they are simple to use.
If you are exiting the roundabout using the first exit, this will often (but not always) mean you are going to turn left.
Use the left hand lane
Indicate left as you approach the roundabout
If you are exiting the roundabout using the second exit, this is usually straight on. Lane markings will tell you which lane you need to be in. If the road is a dual carriageway, it may be that you can use both lanes.
Use an appropriate lane according to the road markings
Indicate left once you have passed the first exit
If you are exiting the roundabout using the third exit, most of the time you will be turning right.
Use the right hand lane until you need to move across to exit the roundabout
Indicate right as you approach the roundabout
In general, you should signal that you are exiting the roundabout with you indicator once you have passed the exit before the one you need.
Speed limits


What are the UK speed limits?
| | |
| --- | --- |
| Built-up areas | 30mph |
| Single carriageways | 60mph |
| Dual carriageways | 70mph |
| Motorways | 70mph |


Important info
Keep left – Unless you are overtaking another car, you should keep left on dual carriageways and motorways.
Variable speed limits – On some multi-lane roads, you may notice that the speed limits change frequently on the overhead signage. These are known as 'smart motorways' and are designed to improve the flow of traffic.
Minimum speeds – You are unlikely to see minimum speed limit signs in the UK, however driving too slowly on a motorway could be cause for a police car to pull you over.
Country roads – Some rural roads may have a speed limit of 60mph, however this is not always a sensible rate at which to travel. Unexpected corners and low visibility mean that it's often safer to drive slower than 60mph.
Driving age in the UK
Age restrictions and fees
| | |
| --- | --- |
| What is the minimum age to drive in the UK? | You must be at least 17 years old to get a driving licence in the UK. |
| What is the minimum age to rent a car in the UK? | Most companies require you you to be at least 21; others will need you to be 25. |
| Is there a young driver's fee in the UK? | Yes, if you are aged 21-24 you are likely to have to pay a young driver's fee. The fee itself will vary depending on the supplier, so it's worth shopping around. |
Not all car hire companies in the UK accept young drivers. For instance, at Heathrow Airport, you'll have a choice of four suppliers if you are under 25. The following companies accept drivers from the age of 21, but charge a fee if you are under 25.
Sixt

Sixt charges £36 per day (on top of the standard rental charge) for a young driver.

Interrent

You'll pay £35 extra per day to rent with Interrent if you are under 25.

Goldcar

If you are under 25, the young driver's fee is £35 per day of rental with Goldcar.


Good to know:


Speed limits
In the UK, speed limits are measured in miles per hour. This is different to many countries who use kilometres. Get used to the conversions if you need to.


Roads
Motorways are numbered and begin with an "M". The next largest roads are "A" roads, and these can be single or dual carriageway. "B", "C" and "D" roads are the smallest roads.


Traffic lights
You must never turn right on a red light in the UK. This is legal in some countries, but in the UK you must have a dedicated filter light or a green light.


Fuel
Some stations will be pre pay at pump, others will let you fill up and then go inside to pay.