Search for car hire in the UK
Fill in the search form below to find cheap car hire in the UK
Our great prices include
Free cancellation and amendments

Third party liability insurance

Collision damage waiver

Vehicle licensing fee
Our team is here to help 24 hours a day,
7 days a week.
Best value car hire from top brands











Key facts for hiring a car in the UK
Car hire locations

There are 384 locations where you can hire a car in the UK, and the most popular is Heathrow Airport.

Best time to visit

Spring and Autumn are the most colourful seasons in the UK, but the summer weather is the most consistent.

Driving side

Left

Temperatures

Generally speaking, the more north you travel, the colder it becomes. London has the warmest temperatures.

Currency

Pound Sterling (£, GBP)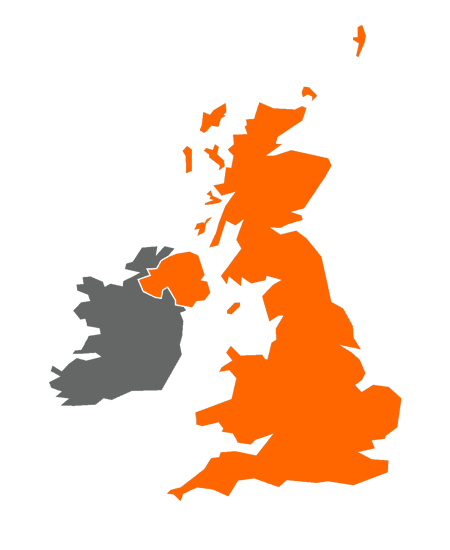 Hire a car in the United Kingdom
Small but mighty, the United Kingdom is a driveable holiday destination packed with history, culture and picturesque landscapes.
It's unpredictable (and often gloomy) climate means that it's not for the resort-seekers and tan topper-uppers, instead serving as the ideal location for city-breakers, hikers and road-trippers. Read on to find out what to expect from a UK holiday, and how to make the most of your UK car hire.
Top tips for hiring a car in the UK
The easyCar top five:
If you're a UK resident, the car rental agent may ask you to provide a "DVLA check code". You can find out more about this on the gov.uk website.
The minimum age to hire a car in the UK is 21, and there may be a surcharge for drivers under 25.
Unless you're renting a car in the summer months, it's unlikely that you'll need air conditioning. You can save a few quid by renting an economy vehicle without AC.
There are over 20 major car rental brands in the UK – get the cheapest rental deal by booking with a comparison site that offers best price guaranteed (like easyCar.com!)
Quite often you'll need to bring a credit card in order to pick up a hire car. Make sure that the named driver has a credit card in their name to avoid potential issues.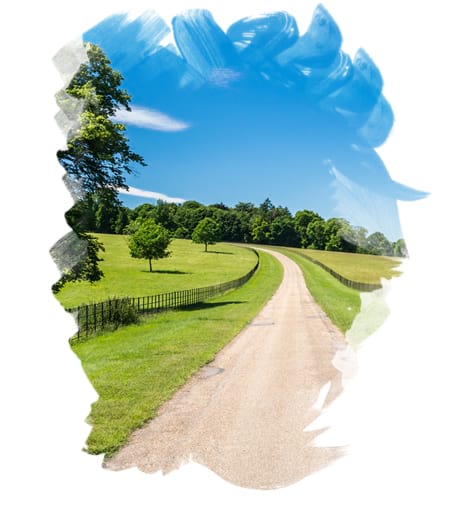 Explore the UK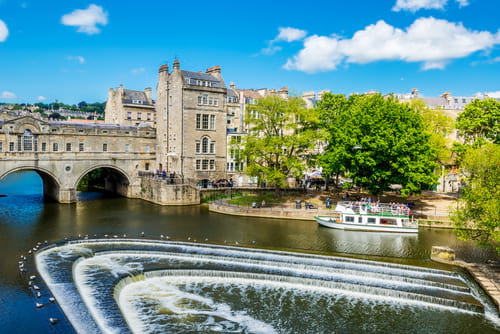 England & Scotland
England
In comparison with the other three countries of the UK, England is huge. It accounts for over 80% of the UK population and over 50% of its landmass. And with its tens of millions of residents come thousands of perfect holiday destinations. From big cities such as London, Manchester and Birmingham, to historical wonders such as Stonehenge, England will have what you want. Its motorways and main roads (known as A roads) are pretty well-maintained, which is surprising bearing in mind that it has barely any toll roads. And if you're planning a European road trip, England is a great place to start – it has several ports with ferry lines heading to France, Belgium and Holland.
Scotland
The northernmost country in the UK, Scotland is famed for its icy weather and its warm-natured inhabitants. Its history with England is patchy (but then again, whose isn't?) – in fact, a wall was built by England's Roman ruler, Hadrian, across the entire width of England to protect it from those of North of their borders. Parts of the wall still stand to this day, just south of the border between England and Scotland. Scotland's highlands create the most stunning backdrop for a road trip that you could want for – think verdant fields, hazy medieval castles and vast lochs.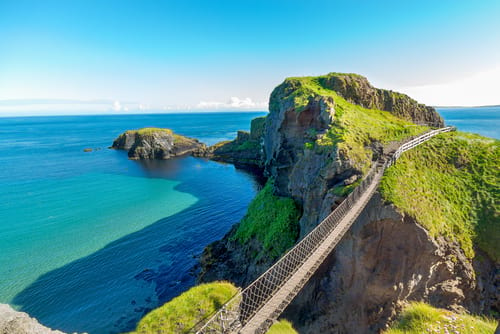 Northern Ireland & Wales
Northern Ireland
Take the time to explore Northern Ireland's fascinating Celtic history as well as its more recent complex relationship with the UK and the Republic of Ireland. It's not a big country, but it's beauty more than makes up for its size. You can also freely move between Northern Ireland and the Republic of Ireland – although you'll soon know that you've crossed the border as there are some key differences between their roads. There are no tolls whatsoever in Northern Ireland (unlike in the Republic of Ireland) and speed limits are measured with kilometres instead of miles. Almost all car hire companies in both countries allow you to take your car across the Irish border without any extra charge.
Wales
To the west of England lies Wales – perhaps the most rural country of the UK. Around 80% of its total landmass is used for farming and forestry, so you can expect to see far more greenery out of the window when you're touring it in your rental car. It's also well-known for being very hilly, making it perfect for the adventurous hiker. And if the hills aren't enough of a challenge, drive out to Mount Snowdon in Snowdonia – the highest mountain in Wales and England at over 1,085km above sea level.


More helpful hints
Tips 6-10
You'll find that almost all cars in the UK are manual transmission (stick shift). If you don't feel comfortable driving one of these, you can book an automatic but it will come at an additional cost.
Train costs in the UK are some of the highest in all of Europe. If you're starting your holiday in one city and ending it in another, one-way car hire will usually be cheaper than a train ticket.
Using a mobile phone as a navigation aid is illegal in the UK and carries a fine. This is only enforced if you touch the mobile at any point while driving, but err on the side of caution and bring along a satnav device.
Unlike a lot of other countries, the UK is full of roundabouts. Take the time to check the rules on these, but the key thing to remember is that priority is usually given to cars approaching from the right.
Child seat laws in the UK are pretty stringent – children under 12 years of age or under 135cm tall must sit in appropriate child seats. Check how much it costs to rent one from your car hire supplier, it may be cheaper to bring your own.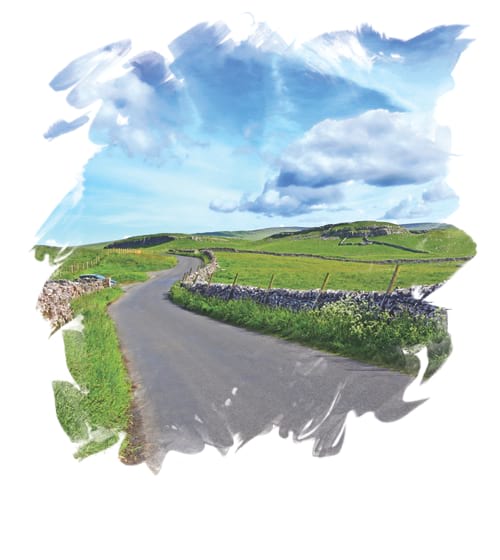 London
The official capital of the UK
Packed with culture, history and an incredibly diverse population, London is one of the most sought-after tourist locations in the world. Take a day to see the sights – Big Ben, the London Eye, Buckingham palace among others – but don't forget to explore the lesser-known quarters. Rent a car to make the most of London's suburbs, which are guaranteed to broaden your cultural and gastronomic horizons. Head to Clapham for flat whites served by friendly Australians, followed by frankfurters and sauerkraut in Borough, and top it all off with cocktails in Shoreditch. When renting a car, watch out for hefty parking costs and the congestion charge. If you have to go through the congestion zone, choose a weekend when it's completely free to drive through.


Capital cities of the UK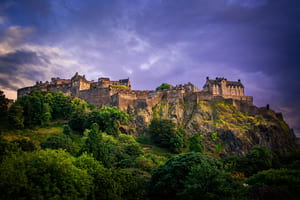 Edinburgh
If you're looking for urban enchantment with a generous helping of greenery, Edinburgh is the place for you. Its castle houses some fascinating history of Scotland and England's union under King James VI and I. There are too many road trip destinations from Edinburgh for us to list, but we heartily recommend a trip to Glasgow – it's only an hour's drive away.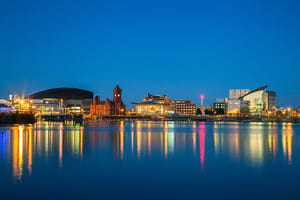 Cardiff
Wales' capital, Cardiff, is just half an hour's drive from the English border. Although it's on the coast, you won't find a decent beach near the city centre. If that's what you're after, head to Barry island (not far from Cardiff Airport) which serves visitors a genuine seaside experience. Cardiff itself is a cultural hub, with museums, theatres and historic sites abound.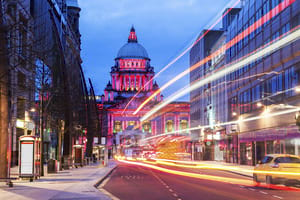 Belfast
Northern Ireland's capital is the buzzing port city of Belfast. The most infamous ship built in its world-renowned harbours was the RMS Titanic, for which there is a fascinating museum in the city centre. Belfast can serve as the base for some amazing coastal drives, including the hour's drive to the striking Giant's Causeway, which is truly the stuff of legends.