A guide to one way rentals
The ultimate guide to one way rentals
Interested in an A to B journey rather than a round-trip drive? One way rentals provide a little extra freedom, so you can get to where you want to go without the worry of having to drive miles back to your starting point. Find out all you need to know about one way car rentals, here.


What is a one way car hire?
A one way car hire is when you collect your car in one location and drop it off elsewhere. In order to do this, suppliers charge a fee to cover the expense of returning the vehicle to its original location. This charge can be applied if you're travelling between cities, countries, airports and sometimes even (though rarely) within the same town. One way rentals are ideal for those who are planning a long road trip, travelling on business or under a time crunch. Although such journeys can be very convenient, they can also come at a hefty price.


What is a drop fee for a rental car?
A one way fee is also known as and sometimes referred to as a "drop fee". So if you see this on your car hire invoice, it's stating your one way rental charge.
How much is a one way car hire?
One way car hire fees can vary greatly, depending on supplier and the distance between the two selected locations. In some locations such as California, suppliers offer free one way rentals. But typically, for long distance rentals, one way fees can start at £75 and rise above £250.


Common questions


Why are one way car rentals so expensive?
The main factor that causes one way fees to skyrocket is the distance between destinations. The further your pick up and drop off points are, the more expensive your rental will be. This is because you are essentially rearranging a company's fleet and they have to determine how much it would be to return the car or rent it out from a different branch. One way prices are also often determined by supply and demand. If you are moving a vehicle from somewhere it is in high demand to a location where it is in low demand, you'll likely pay a steeper fee.


When do I pay the fee?
One way fees are usually paid at the beginning of your car hire, when you leave your deposit at the rental desk, not online during booking. This means if you are renting a car abroad, the fee may have to be paid in a foreign currency. However, this may not always be the case, so keep a clear record of what you paid ahead a time.


Can I always drop off my rental car at a different location?
No, certain restrictions often apply to one way car hires. Suppliers may only allow you to drop off a rental at select locations due to insurance policies and border-crossing regulations. Small companies are also less likely to allow one way hires simply because they don't have as many offices. However, even big name suppliers with hundreds of locations may restrict one way rentals based on demand.


Scoring a cheap one-way rental
Unfortunately one way fees car be difficult to avoid, yet you may be able to hunt down a good deal if you book early enough.
1. Research: Doing your research might not seem like the ultimate trick but it is the most reliable. Look out for seasonal deals and special offers for cheap (possibly free) one way car rentals.
2. Test different destinations: Try searching various start and end points as well as different suppliers. If you're travelling between one popular and one off-the-beaten path destination, dropping off your rental in the more popular location may result in a lower price. This is because the supplier will not want the vehicle to end up somewhere without demand.
3. Vehicle Type: Select a more common type of vehicle, such as an economy or compact car, rather than a higher end or special vehicle. Lower categories of car are more popular, making them easier to rent out from any location.
Tip: With easyCar, you can easily compare various suppliers with the cost of the one way fee already included in the price.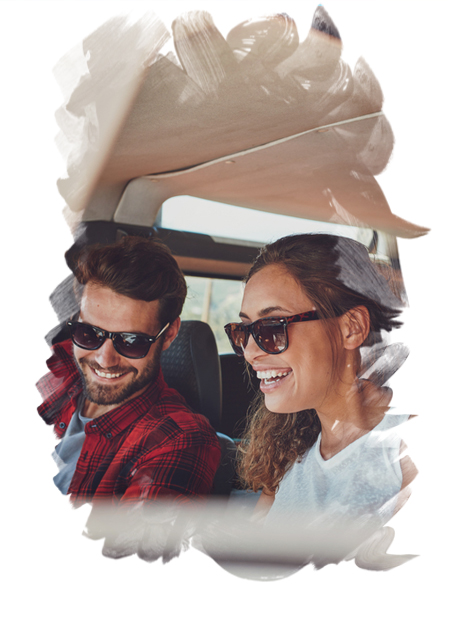 One way car hire between different countries
On occasion, one way car hires are allowed between different countries. In Europe, one way rentals are often permitted so long as the vehicle stays within the EU. However, some suppliers such as Sixt break the EU down into zones, so their cars can only be dropped off between certain EU countries.
One way hires are sometimes be accepted between US and Canada, though between which exact locations is limited. There are certain restrictions from state to state as well, so check the supplier's T&C's beforehand. One way rentals from the US to Mexico are almost never permitted. On the rare occasion they are, it is a major challenge as law require additional insurance and companies impose strict guidelines.
| Popular one way car hire routes | Average cost |
| --- | --- |
| London to Edinburgh | £25-£75 |
| Port Elizabeth to Cape Town | £40-£65 |
| San Francisco to Los Angeles | $150-$300 (but some suppliers don't charge a fee) |
| Los Angeles to Las Vegas | Free |
| Adelaide to Melbourne | £60-£150 |
| Lisbon to Faro | £70-£110 |
Other articles you might be interested in