A guide to picking up your rental
The ultimate guide to picking up your rental
Picking-up your car rental can often be a painstakingly long process that's overcomplicated by insurance policies, required documents and deposits. But the more you know before arriving at the counter, the easier your pick up process will be.
Where do I collect my car?
The first thing to know is where to go to collect your car. If you're arriving at the airport, are the rental offices located in the terminal or do you have to take a shuttle to get there? Look up exactly where you're going before you arrive and keep the car hire company's number handy (remember to include the country code!) in case you can't locate the office.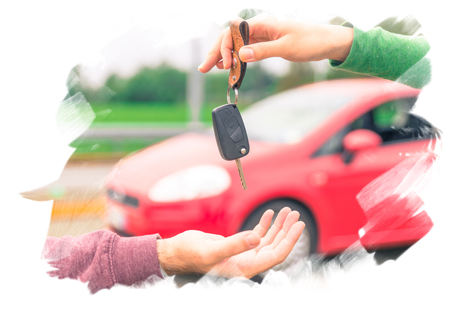 What documents do I need with me when picking up my rental car?
Once you arrive at the car hire desk, you'll be asked for the necessary documents. This almost always includes your booking voucher, driver's licence and additional proof of ID. Your booking voucher should have all the details of your rental, such as the booking number, address and phone number of the specific car hire branch you're collecting the car from. Proof of ID may include your passport or another piece of ID that includes your address.
If you're a UK resident hiring a car in the UK, you will also need to have a valid DVLA licence check code with you. You can find out more about check codes here. Depending on where you're from and where you're travelling to, you may also need to have an international driving permit.


The money
In addition to having your necessary documents, the main driver will also need to have a credit card with their name on it at the ready. The credit card is required for the security deposit, which will be blocked during the rental and, so long as the car is returned damage-free, released back afterwards. The deposit can be quite large, so make sure your card has sufficient funds. Almost all car hire suppliers require a credit card and not a debit card – so if you don't have a credit card in your name, you may have to get somebody else to hire on your behalf. For more info on this, check out our guide to why credit cards are required for car rental deposits, here.


The fine print, check it twice
Even if you've already read the agency's rental policy before arriving at the counter, it's a good idea to read it all through again. Ask any questions you have about the Terms and Conditions and remember that even if you've rented from the supplier before, their fine print may change depending on location. Key things to take a look at include: the fuel policy, mileage limit, border crossings, and what happens if the car breaks down. You may feel pressured to just glance through the policy, but don't! If you haven't read all the details and yet sign the agreement, you could be in for an unpleasant surprise on return.


Car hire charges to watch out for


Avoiding the hard sell
When picking up your car, you should remember that the supplier reps are not just there to hand you your rental, they're there as sales reps too. You should expect that they'll try and sell you on optional extras and additional insurance. If you don't need the extras, don't take them. Buying extra insurance at the counter is not a legal requirement, all rentals already include the mandatory insurance (though there will be a payable excess). For more info on this, check out the easyCar guide to not getting ripped off on your car hire, here.


Know your insurance
If you opted to buy independent insurance before picking up your car, know what it covers. This will help you avoid the selling tactics of the rental reps at the desk and give you extra comfort during your trip. Buying insurance directly from the supplier is often far more expensive and covers less than buying an insurance policy beforehand online. You may be told that a standalone policy isn't valid and that you'll need the company's own insurance, but this simply isn't true.


Check your rental car over
After you've signed the rental agreement and been given your keys, survey your rental for any possible damages or issues that haven't been recorded on the condition report. Make sure to inform a rep and have them change the report to accurately reflect the state of the car. It is also a good idea to take pictures of the car and test that the headlights and windscreen wipers are working.
Other articles you might be interested in