A guide to car hire and border crossings
The ultimate guide to border crossings
Interested in hiring a car and heading off on an unforgettable road trip through a string of countries? No matter the continent or countries you drive through, overland journeys are always a spectacular adventure. The idea of crossing borders in a rental car can be daunting, yet if you read the fine print, it can be far easier than you expect. Read on for tips on driving your rental car over country borders.
Can I take my rental into another country?
In Europe, car hire companies typically allow renters to drive their vehicles across international borders into neighbouring countries. However, you may have to pay a cross border fee in order to drive the car abroad.
You must always inform the rental company of your travel intentions as they need to give you permission to take the car out of the country. If you fail to notify them of your plans, you will break the contract terms, void your insurance and lose any breakdown cover.
Travel restrictions, including how long you can drive a rental out of country, vary depending on supplier. The type of vehicle you hire may also influence whether border crossings are possible (high-value cars are often not allowed).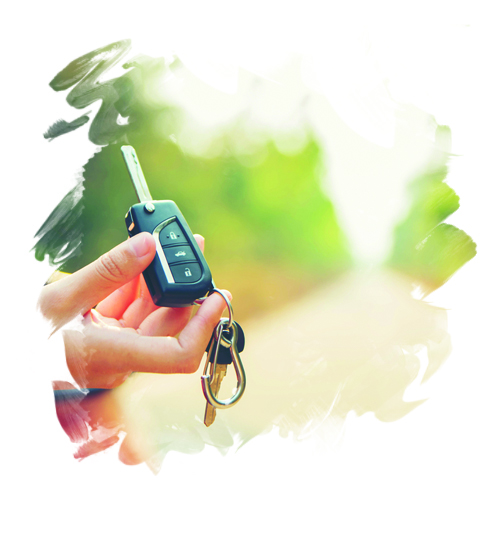 What is a cross border fee?
A cross border fee is applied to your rental in order to cover the additional insurance necessary to drive the vehicle outside of the country which you rented it from. Paying the fee guarantees your insurance will remain valid and the rental company can supply you with the correct documentation.
It is a good idea to tell the car hire company of your plans a couple days ahead of your rental so they can organise any required paperwork.


How much does a cross border fee cost?
The price of cross border fees changes depending on which country border you plan on crossing and the supplier you choose to rent with. But in general, suppliers charge between £20-£50. Some companies will allow you to cross select borders for free, so you may be able to avoid the fee if you shop around.
| Border crossing | Rental company | Fee |
| --- | --- | --- |
| France to Switzerland | Europcar | 15 EUR |
| Austria to Italy | Megadrive | 10 EUR |
| Germany to Poland | Hertz | 29.75 EUR |
| Ireland to Northern Ireland | Enterprise | Free |


Can I rent a car to drive across Europe?
It is reasonably simple to drive across Europe, yet you'll still want to check through your car hire terms for any geographic restrictions. Driving between European destinations is often free, though you are likely to encounter cross border fees when driving between Western Europe and Eastern Europe or non-EU countries.
If you are planning on crossing multiple borders, you may only have to pay the necessary border crossing fee once. However, some companies will charge per country or greater geographic zone.
For those travelling between EU and non-EU countries, check that the rental company has supplied you with an EU-registered car. The vehicle should also be fitted with any necessary extras (such as snow tyres) needed to comply with other countries laws.


What happens when I cross a border in a rental car?
When driving between countries with hard borders (those with security gates and passport control) you will be asked to for your rental documents. This includes the permission letter from the rental company granting you approval to cross the border.


Can I drop off a rental car in another country?
Dropping a hire car off in a different country from which you rented it in may be possible depending on supplier, but it is always expensive. Rental companies are generally less flexible about having their vehicles dropped off in an alternative country than they are with temporary border crossings. You can read more about one-way rentals here.


North American borders
Most car hire companies allow their vehicles to be taken between the US and Canada for free, though you will still have to ask them for a permit to do so. When you cross from the US to Canada and Canada to the US, you will need your passport as well as your rental documents.
Certain suppliers also impose strict state and provincial border crossings, so you'll want to check the fine print on which states you're allowed to drive in.
Crossing the border from the US to Mexico can be difficult and littered with a number of restrictions. There are a few companies who will give you permission to take their vehicle into Mexico, but it will come at a steep cost.
Other articles you might be interested in