The ultimate guide to car seat hire
Family adventures are undoubtedly fun but as any parent will tell you, travelling with children can be exhausting and far from a straightforward journey. You have to entertain the kids on long flights, ensure you always have food that they'll actually eat at the ready and pack more luggage than you have hands to carry. And if you're renting a car, the list of kid-friendly needs and must-haves gets even longer.
A child seat is mandatory in almost every country worldwide, so you'll have to consider the most convenient way to buckle the kids in before setting off on your holiday.
Should I take my own car seat?
If you're interested in keeping costs down, taking your own car seat may prove to be the best option for your family. However, if you'd prefer to pack light, you'll probably want to look at renting. But we'll let our list of pros and cons help you decide.


The pros
Bringing your own car seat will save you money as most airlines, including budget airlines like easyJet and Ryanair, allow parents to check-in one stroller and one car seat for free. No need to pay extra on top of your car hire or your flight!
You won't have to go through the hassle of trying to figure out how to fasten a new car seat into your rental (most likely without any instructions or help from the car hire staff).
There's no guarantee that the car rental company will have the child seat you reserved, either because they've run out or they don't stock the seat you need at the location you've selected. So bringing your own means you'll definitely end up with a child seat.
You'll be familiar and more comfortable with the quality and safety features of your own car seat.
Your child will probably be happier in their own car seat rather than a rented one.


The cons
Child seats are bulky, heavy and awkward to lug around. Renting upon arrival means no need to pack such an difficult to carry item.
Your car seat may not be suitable for the country you're travelling to. Check the country's regulations before setting off.
If you need more than one child seat, bringing multiple seats may not be a feasible option.
What if I decide to rent a car seat?
When booking your car hire through easyCar, you can reserve the type of car seat you need when you reach the "Extras" section. Price will vary depending on the car hire supplier and child seat you choose. You pay for this added extra at the time of pick up, not when you book with us. This is because car rental companies will not guarantee their supply ahead of time, so it makes sense to only charge you when they know they have the seat you require.
Ensure that the seat matches your child's size and weight, both when you reserve online and when you arrive at the car hire desk.
Once you've been given your seat, check it over and request a different one if you think it's broken or unsuitable.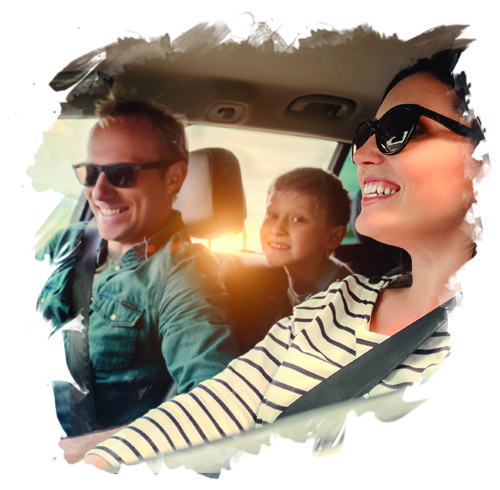 Types of car seats


Baby seat
Suitable for infants up to 9 months old or weighing less than 20 pounds / 9 kilos.


Child seat
Suitable for children 9 months to 4 years or weighing 20-40 pounds / 8-18 kilos.


Booster seat
Suitable for children aged 4 years and up or weighing 40-100 pounds / 18-45 kilos.


Additional things to remember


Size
Think about the size of the car you're renting and the number of doors it has – two-doors makes putting in a child seat tricky!


Safety
Thoroughly check that the car seat you've been given fits securely into the car. Don't rush off without checking the seat and the car over first.


Location
Consider the location of the car hire desk. Is it within the airport, downtown or a shuttle away? The further it is, the longer you'll have to carry the kids and your luggage with you.


Queuing
It may also be worth researching which company has the shortest queuing times. The quicker the queue the less time you'll have to spend entertaining the kids in a rental office and the faster you can hit the road.
Other articles you might be interested in