A guide to car rental for young drivers
The ultimate to car rental guide for young drivers
Regardless of age, renting a car and driving freely along open roads is a sought after dream. Yet for young drivers, the path to achieving that dream can be riddled with finely printed hurdles and steep fees.
There is a higher risk associated with renting to less experienced drivers, as costly insurance claims are made more often by young drivers. Due to this, if you are under 25, car hire companies will add on extra charges to ensure they are well covered for the rental.


Common FAQs


What is the minimum age to rent a car?
There is no set minimum age to rent a car, it depends on both the country you are visiting and the supplier you have chosen to hire from. While every country mandates a minimum age requirement, companies only need to use that as their base age. In general, you have to be 21 before you can hire a car, though some locations will allow those as young as 18 to rent.


How long do I need to have held my driving licence for?
You will always need to have had your full driving licence for at least one year in order to hire a car, regardless of your age. The number of years you've held your licence can also affect the type of car you are permitted to hire.


What type of car can I hire as a young driver?
There are often restrictions in the terms and conditions which limit young drivers on the type of vehicles they are allowed to hire. Renting larger 4-wheel-drive vehicles, luxury and sport cars may be off limits until you reach the age of 25.
What is a "young driver surcharge"?
A young driver surcharge is a daily fee which the rental company adds on top of the regular rental price. The charge amount varies depending on supplier and rental location. It can also change based on the type of car you wish to hire. The fee will be added on whether you are the main or additional driver.
As well as the young driver surcharge, you may also find some car hire companies that require those under 25 to buy an all-inclusive insurance policy at the counter.
When searching with easyCar you'll find the young driver fee already included in the price of the vehicle (you can find the price breakdown under 'Price Summary' after selecting your car).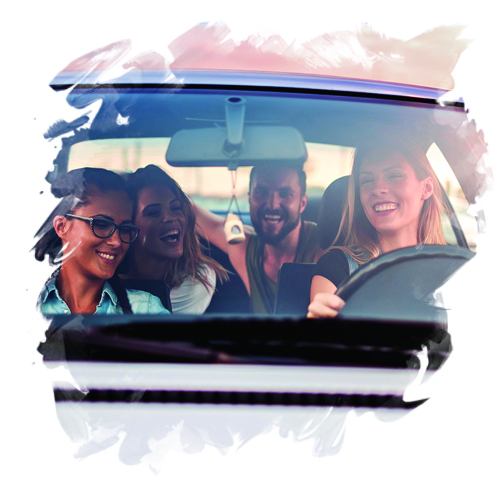 How to get the best deal
It can be harder work to get a good car hire deal as a young driver, but not impossible. Search with easyCar, making sure to provide your age before you make the search, and we'll show you additional driver fees upfront. Look for smaller cars rather than larger more expensive models and be flexible with pick-up location (airports may prove to be cheaper than downtown branches). Worst case scenario, you may have to find a travel companion over the age of 25 to rent and drive the car – you can always return the favour when you hit 25!
Minimum age for car hire in some of easyCar's most popular destinations
| Country | Minimum age for car hire | Average fees per day |
| --- | --- | --- |
| UK | 21 | £25-40 |
| Spain | 21 | €20 |
| Switzerland | 19 | CHF 15 - 20 |
| Italy | 18 | €20 |
| France | 21 | €30 - €40 |
| Portugal | 18 | €6 - €10 |
| Ireland | 21 | €30 |
| USA | 18 or 21 depending on the state | $25 |
| Cyprus | 21 | €7.50 |
| Netherlands | 21 | €15.31 |
| Germany | 18 | €10 - €20 |
| Iceland | 20 | ISK 1,000 |
| Greece | 21 | €15 |
| South Africa | 18 | ZAR 300.00 |
| Belgium | 21 | €20 |
Other articles you might be interested in